PARISH NEWS & UPCOMING EVENTS:
REST IN PEACE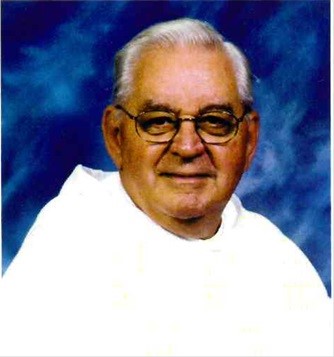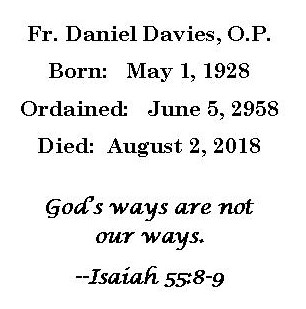 We bade farewell for Father Dan on August 2. He has gone home but his many years at Holy Innocents and Holy Rosary have touched so many of us, who will never forget his gentle simplicity and generous spirit.  Father Dan brought healing to so many suffering souls and the Healing Mass he started continues at Holy Rosary in the spirit of his zeal and unfailing trust in God's compassion. His active ministry continued into his later years of decline right to the end. Dan was always perched in his office ready to hear confession, bless a rosary or give encouragement to anyone who asked for it. He continued to serve as a confessor to many at Cabrini Home. In the spring Father Dan celebrated his 90th birthday along with 60 years of priesthood. A good number of those 60 years were spent right here in our corner of Westchester County. His years of ministry in the South widened his view of the Church and enriched his ministry among us at Holy Innocents.  Dan will be missed by all of us, but he lives on with the Lord and in our hearts. His example of enthusiastic and untiring service will continue to inspire us. He showed us how to grow old with grace and acceptance. Rest in peace, Dan. Thanks for all you have done for us. We will pray for you and trust that you are praying for us to join you one day. Enjoy all the sweets you want at the heavenly banquet table without counting the carbs!    Father Hugh, O.P
SAVE THE DATE:
Wednesday, September 5th:  RE-CREATION MASS & LUNCHEON our parishioners 55 and over will gather for the 12:15 pm Mass followed by our monthly luncheon. Please call the Parish Office at 769-0025 if you need a ride.
Sunday, September 9th:  Speaker Series:  Pope Francis & the Politics of Polarization – Speaker: Fr. Mat Malone, S.J.    More Info
Monday, September 10th:  Healing Mass 7:30 pm – Holy Rosary Church 170 Bradhurst Ave, Hawthorne
Sunday, September 23rd:  Our Lady of Pompeii Centennial  Celebration – More Info and Pictures 
10:00 am Mass; Rosary Procession immediately following Mass; Food and Activities after Procession; Benediction to end the celebration.

BEREAVEMENT SUPPORT GROUP FOR PARENTS:  A need has been identified in our parish for a Bereavement Support Group for Parents whose child has died. We are considering starting a group in September.  If you are interested in being a part of this group, please get in touch with Christine Empey (home phone 914-741-5896; cell 914-948-3771). Be prepared to give her your name, phone number and e-mail address so that we can contact you with further information.
RCIA PROGRAM ST. THERESA'S BRIARCLIFF:  If you or someone you know is interested in learning more about becoming Catholic and/or completing their sacraments of initiation, please contact Kevin at (914) 923-3286 or email: sttheresareled@optonline.net
FAMILY MASS:  Thank you to the families and classes that participated in the family Masses this year. The family Mass invites children, Individuals, whole or mixed families, to take an active role in the Mass. No previous experience necessary. The Family Masses are celebrated at the 9:00 am Mass on the first Sunday of the month, from October to June. If you or your family would like to participate in a Family Mass this year, please contact Christine McCarvill at: Christinehort@aol.com, or 914-449-6641
Energize your faith through this worthy service………
"25th & 50th" WEDDING ANNIVERSARY CELEBRATION:  Holy Innocents is planning a celebration on Sunday, October 7th for those parishioners who are celebrating their 25th or 50th Wedding Anniversary during 2018. Participants will be recognized at the 11 am Mass followed by a reception in our Social Hall. If you are celebrating either Wedding Anniversary this year, please register with the parish office by calling 769-0025.
ONLINE GIVING:   click – Give Online
Online Faith Formation Program (Be-Informed):  To learn more about your faith, click on Religious Education above and then Be-Informed.  It's Free.
Parish E-mail Newsletter:  If you would like to receive future e-mails, please sign up under the "Contact Us" link on the top right of this page.
THE WEEK AHEAD IN THE PARISH
The Parish Office is closed weekends during July and August.  Enjoy the Summer!
While traveling visit Masstimes.org