PARISH NEWS & UPCOMING EVENT
FROM THE PASTOR 
Dear Parishioners,                                              24JUL2020
Our summer priest, Fr. Irenaeus Dunlevy, OP, will be leading a five-week online discussion series for adults starting Thursday, July 23 at 7:00pm. The group will read Walker Percy's 1971 novel, 𝘓𝘰𝘷𝘦 𝘪𝘯 𝘵𝘩𝘦 𝘙𝘶𝘪𝘯𝘴: 𝘛𝘩𝘦 𝘈𝘥𝘷𝘦𝘯𝘵𝘶𝘳𝘦𝘴 𝘰𝘧 𝘢 𝘉𝘢𝘥 𝘊𝘢𝘵𝘩𝘰𝘭𝘪𝘤 𝘢𝘵 𝘢 𝘛𝘪𝘮𝘦 𝘕𝘦𝘢𝘳 𝘵𝘩𝘦 𝘌𝘯𝘥 𝘰𝘧 𝘵𝘩𝘦 𝘞𝘰𝘳𝘭𝘥, a mature work that satirically explores the spiritual malaise of modern man.
This novel is brilliant, hilarious, and perhaps more relevant to our own day than when Percy composed it during the Nixon administration. Percy depicts a bombed out view of civilization in America and the rise of political and religious factions. The work should hopefully bring humor, catharsis, and generate some lively conversations.
For more information email Fr. Irenaeus at irenaeus.dunlevy@opeast.org for more details. Happy reading!
Peace,
Irenaeus
Fr. Irenaeus Dunlevy, O.P.
Holy Innocents Church
In Christ,
Fr. Ed Gorman, OP
Holy Innocents Church
To view all video services (live or at a later time) at Holy Innocents Church:    CLICK HERE

Live Mass:   Sunday 9:00 am
Live Holy Hour:  Tuesday 7:00 – 8:00 pm
Currently Holy Innocents Church is open for regularly scheduled weekday and Sunday Masses.
Holy Innocents is also open for silent prayer from 6:30 am to 6:00 pm Sunday through Saturday.
Our Lady of Pompeii Chapel is closed until further notice.
Spiritual Communion Prayer said at Live Mass:  (click here to print prayer)
My Jesus,
I believe that You are present in the Most Holy Sacrament.
I love You above all things,
and I desire to receive You into my soul.
Since I cannot at this moment receive You sacramentally,
come at least spiritually into my heart.
I embrace You as if You were already there
and unite myself wholly to You.
Never permit me to be separated from You.
Amen.
From the Archdiocese of New York:   ADNY LEVEL IV TO BEGIN THIS SUNDAY
"Based upon the good reports from around the archdiocese today with the reopening of weekday Mass, baptisms, weddings and funerals, Cardinal Dolan would like to announce that, in the Hudson Valley counties of Dutchess, Orange, Putnam, Rockland, Sullivan, Ulster and Westchester, Sunday Mass will resume on June 14, the Solemnity of the Body and Blood of Christ, including the anticipated Mass on Saturday evening at 25% of the capacity of the church provided that physical distancing and other guidelines are followed. All precautions must be taken (wearing of masks, maintaining a six-foot distance, no physical contact except for communion, frequent washing of hands, and sanitizing surfaces)."
"The faithful might be reminded that for now there is no obligation for them to come back to Mass once churches are open. Those who are at a greater risk of COVID-19 (those older than 65 or who have underlying health conditions) are cautioned not to come to church for Mass. They may join us only when they feel safe and comfortable to do so. His Eminence has dispensed us from an obligation to attend Sunday Mass at this time. As an alternative, Mass may we watched on line or on TV, and make the act of spiritual communion instead of receiving the Eucharist. While we miss them when they are not here, we rely on their continued support of our churches, parishes and archdiocese. Encourage them to mail in envelopes or contribute by way of online giving."
"His Eminence would like to offer our people the opportunity for the sacrament of reconciliation as the return to Sunday Mass becomes imminent, on the Most Sacred Heart of Jesus, June 19 from 10-12 and 4-6."  There will be more on this to follow.
POPE FRANCIS' MESSAGE:  Please take a few minutes and read Pope Francis's message to the city of Rome and the world.  It is simple, direct and beautiful.   Click Here for Pope Francis's Message
THE DOMINICAN ROSARY Glorious Mysteries:  click on arrow below to start Rosary; double click to enlarge
MAGNIFICAT
During this difficult time, many of the faithful may be unable to attend Mass. To help them sanctify their day and to keep walking in the liturgical rhythm of the Church, we are honored to make our online version of MAGNIFICAT temporarily available to everyone for free.
Please help us spread this message and share this email and link: www.magnificat.com/free with as many people as you can. Free temporary access is also available in Spanish: www.magnificat.com/gratis.
COLLECTION OF FOOD FOR THOSE IN NEED:  We continue to collect non perishable food items for those in need. Please drop them off in the front of Church or at the side door. People request help with food every day. Thank you. 
LETTER FROM OUR DOMINICAN PROVINCIAL:   Child Abuse
Online Faith Formation Program (Be-Informed):  To learn more about your faith, click on Religious Education above and then Be-Informed.  It's Free.
Parish E-mail Newsletter:  If you would like to receive future e-mails, please sign up under the "Contact Us" link on the top right of this page.
Gifts to Holy Innocents Church: Please consider remembering Holy Innocents Church in your will or estate. These gifts have a lasting impact on our parish.
PRAYER TO ST. MICHAEL:  Saint Michael, the Archangel, defend us in battle, be our defense against the wickedness and snares of the devil. May God rebuke him, we humbly pray; and do though, O Prince of the heavenly host, by the power of God, thrust into Hell Satan and other evil spirits who prowl about the world for the ruin of souls. Amen…St. Michael Pray for us.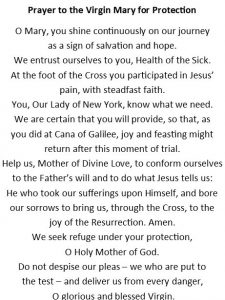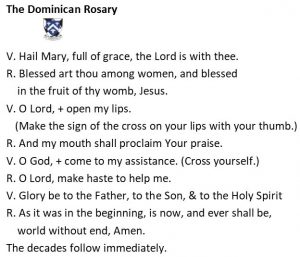 THE MONTHLY CALENDAR AND WEEK AHEAD: