PARISH NEWS & UPCOMING EVENT
*** MASS SCHEDULE FOR THE WEEK OF 9/28 ***
 –  Monday, Wednesday and Friday:  7:00 am Mass  (no Mass on Tuesday or Thursday)
–  Tuesday: 7pm Holy Hour with confessions available
–  Saturday Vigil:  5:15 pm
–  Sunday Masses:  7:30 am, 9:00 am, 11:00 am and 5:15 pm
FROM OUR ADMINISTRATOR              September 20, 2020
Good afternoon,
I hope you are all enjoying the very Autumnal weather of the last several days. Personally, I am always glad to get to wear my hoodie again.
We continue to receive nothing but good news regarding the test results of our parishioners in the last three weeks since our potential exposure. What a blessing and a comfort to find that the safety measures we have been asked to follow were effective.
We were able to resume daily Masses this past week and Sunday Masses yesterday and today. Remember that due to the pandemic the Archdiocese has continued to suspend the usual Sunday obligation to attend Mass, so do not feel any pressure to attend in person. Feel free to instead join in spirit or through our 9am Sunday live-stream. That said, for those of you who chose to return this week, it was so nice to see each of you. Every Mass is by definition a deeply communal reality and your presence is so valued.
Earlier this week Bishop Peter Byrne joined us for the Confirmation of our students whose special day had been postponed from the Spring. What a joy to see our young people receive this great Sacrament. There were 72 students in all, spread over four separate ceremonies to maintain social distance. I am reminded that the number 72 is very significant because that is the exact number of disciples that Jesus sent out to proclaim the Kingdom of God. May the Spirit indeed continue to fill our 72 confirmandi that they would be proclaimers of Christ's Kingdom to the world.
Here is our liturgy schedule for this week, Sept. 21-27. Note that we will again only have daily Masses on Monday, Wednesday, and Friday:
Monday (Feast of St. Matthew): 7am Mass
Tuesday: 7pm Holy Hour with confessions available
Wednesday: 7am Mass
Friday: 7am Mass
Saturday: 4:30 confessions, 5:15pm Vigil
Sunday: 7:30am, 9am, 11am, 5:15pm Masses
Know of my continued prayers, thank you for yours, and stay in touch,
Fr. Luke
To view all video services (live or at a later time) at Holy Innocents Church:    CLICK HERE

Live Mass:   Sunday 9:00 am
Live Holy Hour:  Tuesday 7:00 – 8:00 pm
Currently Holy Innocents Church is open for regularly scheduled weekday and Sunday Masses.
Holy Innocents is also open for silent prayer from 6:30 am to 6:00 pm Sunday through Saturday.
Our Lady of Pompeii Chapel is closed until further notice.
RELIGIOUS EDUCATION CLASSES  START MONDAY, OCTOBER 5TH:  For registrations information click on Religious Education on the above, then click on Registration Information.


9/26— Evening Vigil
5:15      Vincenzo Casasanta & Family
9/27—26TH SUNDAY IN ORDINARY TIME
7:30      Luigi Filice
​ 9:00​      Holy Innocents Parishioners
​10:00​      Stephen Akals​ki
11:00​      Thomas Ambrosio​
5:15​      Irene & John Rogers
9/28— Monday, Weekday
7:00​       Joseph Maher
9/29—Tuesday, Saints Michael, Gabriel  & Raphael
7:00       Kay Stenderhoff​
9/30—Wednesday, Saint Jerome
​7:00​       Kevin Ryan
10/1—Thursday, Saint Thérèse
7:00​       William Florio
10/2—First Friday, Holy Guardian Angels
​7:00​       Michael Felleman
10/3—First Saturday, Weekday
​7:00​       Noel O'Connell
10/3— Evening Vigil
5:15       Michael J. McKenna
10/4—27TH SUNDAY IN ORDINARY TIME​
7:30  ​     Kay Stenderhoff​
9:00​       Angela & Everest Massimi
​10:00​       Holy Innocents Parishioners
​11:00​       Eugene Crowe
​5:15​       Lilly Garry (1st Anniversary)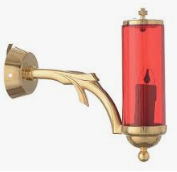 The Sanctuary Lamp at Holy Innocents
Burns in Memory of Frank Moro

CONDOLENCES
We offer our sympathy and promise of prayers to the family and friends of:
Ann & Loreto (Larry) Marini (parents of Julie)  Thomas Palazzo (father of Maria Lamorgese)
Please pray for the safety of our men and women in the military, especially those who are serving overseas; police officers, firefighters, all first responders and all health care workers.

Holy Innocents Weekly Email
If you would like to receive this weekly email, please click here to send your request.
POPE FRANCIS' MESSAGE:  Please take a few minutes and read Pope Francis's message to the city of Rome and the world.  It is simple, direct and beautiful.   Click Here for Pope Francis's Message
LETTERS AND DIRECTIVES FROM CARDINAL DOLAN:  COVID-19   click on links below  Letter from Cardinal Dolan dated April 3, 2020
THE DOMINICAN ROSARY Glorious Mysteries:  click on arrow below to start Rosary; double click to enlarge
MAGNIFICAT
During this difficult time, many of the faithful may be unable to attend Mass. To help them sanctify their day and to keep walking in the liturgical rhythm of the Church, we are honored to make our online version of MAGNIFICAT temporarily available to everyone for free.
Please help us spread this message and share this email and link: www.magnificat.com/free with as many people as you can. Free temporary access is also available in Spanish: www.magnificat.com/gratis.
COLLECTION OF FOOD FOR THOSE IN NEED:  We continue to collect non perishable food items for those in need. Please drop them off in the front of Church or at the side door. People request help with food every day. Thank you. 
LETTER FROM OUR DOMINICAN PROVINCIAL:   Child Abuse
Online Faith Formation Program (Be-Informed):  To learn more about your faith, click on Religious Education above and then Be-Informed.  It's Free.
Parish E-mail Newsletter:  If you would like to receive future e-mails, please sign up under the "Contact Us" link on the top right of this page.
Gifts to Holy Innocents Church: Please consider remembering Holy Innocents Church in your will or estate. These gifts have a lasting impact on our parish.
PRAYERS:
The Dominican Rosary
Prayer to St. Michael the Archangel said after Mass
Prayer to the Virgin Mary for Protection
Spiritual Communion Prayer – said at live Mass
THE MONTHLY CALENDAR AND WEEK AHEAD: