PARISH NEWS & UPCOMING EVENT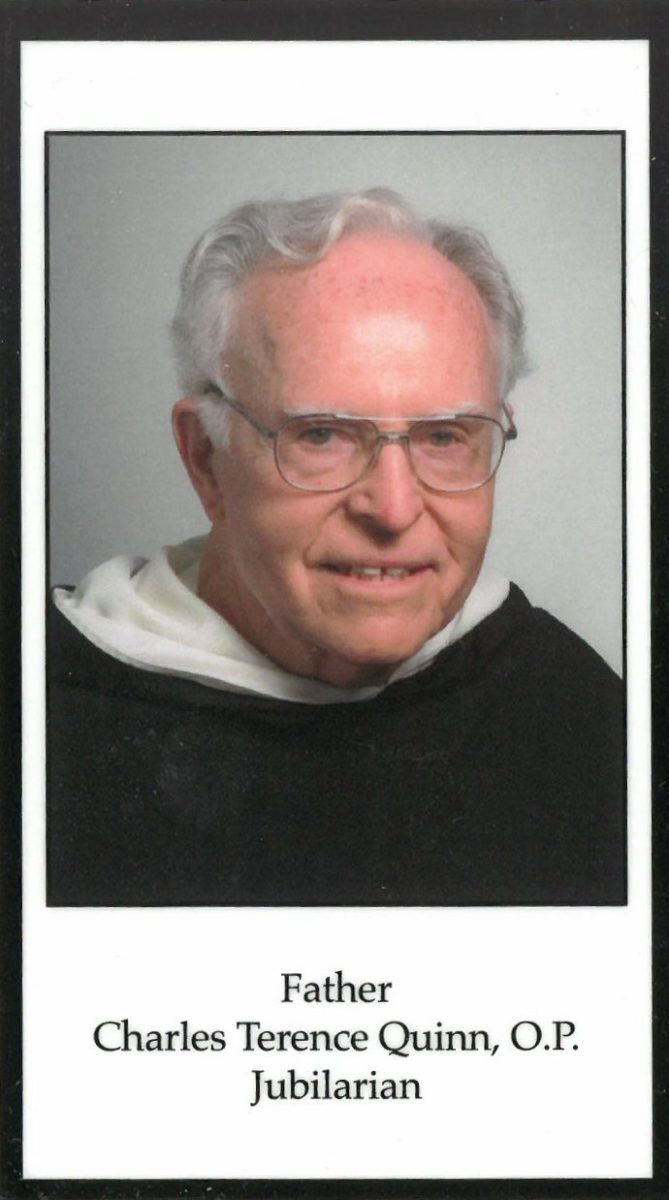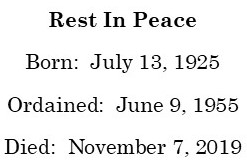 From the Pastor    17 NOV 2019
– We pray for the repose of the soul of Fr. Terence Quinn, OP, WWII US Navy Officer, Dominican Friar, missionary to Pakistan and the Solomon Islands, prior provincial, pastor Holy Innocents and Sacred Heart Parish, Jersey City, NJ. May he Rest in Peace forever with all the angels and saints.
– Fr. Frank Sutman, OP will help prepare us for Advent with a Spiritual Retreat from 17-21 NOV 19 from 7:00-8:00 pm.
– We will celebrate a Mass on Thanksgiving Day at 0900. Please join us as we look forward to Christmas and thank God for our many blessings.
– Please consider a raffle ticket to help support the continued maintenance of our Church. We are working on the front doors, hall kitchen, roof and grounds. Thank you for your support.
– Let us know if there is any friend or family member who needs a visit from a priest at this time. Be assured of our daily prayers.
Fr. Ed Gorman, OP, Dominican Friars, Holy Innocents Church
Go Navy beat ND!
JOIN US FOR MASS ON THANKSGIVING DAY:  9:00 am at Holy Innocents Church.

SAVE THE DATE:
November 17-21 Advent Spiritual Retreat at Holy Innocents 7:00 pm with Fr. Frank Sutman, O.P. "All will be well, and all will be well, and every kind of thing will be well." Julian of Norwich and Crises in Our Lives. Please note that the retreat starts on Sunday evening at 7:00 pm and not at 7:30 pm as indicated on the flyer.   More Info
Sunday, December 8th:  Lessons & Carols at 7:30 pm. An evening of Advent Reflection in Word and Song presented by The Holy Innocents Music Ministry."
Saturday, December 21st:  The Reason for the Season – 10:00 am. Our first meeting is on Wednesday, December 4th at 5:00 pm in the Social Hall.  Think about what role you would want to portray: Narrators (Lead Angel), Angels, Elizabeth, Mary, Joseph, Inn-Keeper, Sheperds, Star, 3 Wisemen, and the Little Drummer Boy.  For more information or questions contact us at ofiice@hiparish.org.

EUCHARISTIC ADORATION:  A weekly Holy Hour with exposition of the Blessed Sacrament is held every Tuesday evening from 7-8 pm at Holy Innocents. If priest are available, Confessions can be heard during the Holy Hour. All are welcome and encouraged to join for these opportunities for resting in Our Lord's Eucharistic Presence.
The Holy Innocents Giving Tree – will be set up in the Social Hall for all Masses the weekend of December 1st. All gifts collected are distributed to families in need living in the Highbridge Community in the vicinity of Sacred Heart Church in the Bronx. Parishioners can select a gift tag from the tree. The Social Concerns Committee asks everyone to record their tag number on our list so we can be sure that every child receives their gift. To ensure delivery in time for Christmas, your wrapped present, with the numbered tag attached, must be delivered to the rectory office by Friday, December 13th. Your kindness and support for our social outreach is greatly appreciated.
ROSARY ALTAR SOCIETY:  collecting rosaries and children's books to send to Archbishop Chris Cardone, OP in the Solomon Islands. Please call Grace Baer at 914-769-4955 and she will arrange to pick these items up at your convenience.
Renew & Rebuild:  Thank you very much for your continued contributions to Renew and Rebuild which allows us to keep up with our repairs.
ONLINE GIVING:  The WeShare system is an automatic giving program that debits your credit card or bank account once or twice a month as you request and eliminates the use of envelopes.  Online giving is safe, simple, and convenient.  It benefits our parish by helping to streamline our administrative process and providing more accurate budgeting.  Please consider using the WeShare online giving system.  Click on  Give Online   for more information and registration.
THE ROSARY ALTAR SOCIETY:  will recite the Rosary before Sunday Mass at 9:40 at Our Lady off Pompeii Chapel. All are welcome to join in. If you are interested in joining the Rosary Altar Society please contact Ginny at 769-2854
2020 MASS BOOK INTENTIONS:  The 2020 Mass Book will open Wednesday, October 3rd at 10:00 am. Details in next week's Bulletin
LETTER FROM OUR DOMINICAN PROVINCIAL:   Child Abuse
Online Faith Formation Program (Be-Informed):  To learn more about your faith, click on Religious Education above and then Be-Informed.  It's Free.
Parish E-mail Newsletter:  If you would like to receive future e-mails, please sign up under the "Contact Us" link on the top right of this page.
PRAYER TO ST. MICHAEL:  Saint Michael, the Archangel, defend us in battle, be our defense against the wickedness and snares of the devil. May God rebuke him, we humbly pray; and do though, O Prince of the heavenly host, by the power of God, thrust into Hell Satan and other evil spirits who prowl about the world for the ruin of souls. Amen…St. Michael Pray for Us.
THE MONTHLY CALENDAR AND WEEK AHEAD:

NOVEMBER, 2019 MONTHLY CALENDAR
Sunday, Nov 17th:
Baptisms immediately following 11:00 am Mass
2nd Collection: Maintenance
7:00 pm – Advent Retreat at Holy Innocents
Monday, Nov 18th:  
7:00 pm – Advent Retreat at Holy Innocents
Tuesday, Nov 19th:
11:00 am – Lectio Divina
7:00 pm – Advent Retreat at Holy Innocents
Wednesday, Nov 20th:
7:00 pm – Advent Retreat at Holy Innocents
Thursday, Nov 21st:
7:00 pm – Advent Retreat at Holy Innocents
Friday, Nov. 22nd:
Saturday Nov. 23rd:
Sunday, Nov. 24th:
2nd Collection – Catholic Charities for Charity and Justice
Baptisms immediately following 11:00 am Mass