PARISH NEWS & UPCOMING EVENT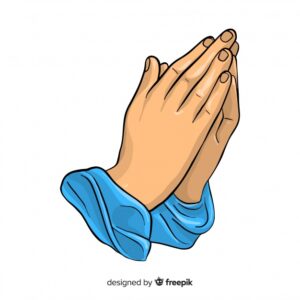 DAY OF PRAYER FOR LIFE, FRIDAY, JANUARY 22ND:  we will have an all-day prayer vigil for the protection of the unborn and for all who have been hurt by abortions. This time of prayer in the presence of the Blessed Sacrament will start at 7:30am in Holy Innocents (immediately following the 7:00am Mass) and continue until a 6:00pm Mass for Life in the church. To sign up for a block of time so that we can ensure a continuous presence of prayer in the church during these hours click on the praying hands.
Click on the Weekly Bulletin to view the Mass Intentions,
Readings and business ads that help support our parish.
To view the live Sunday 9:00 am Mass at Holy Innocents Church:  CLICK HERE
Currently Holy Innocents Church is open for regularly scheduled weekday and Sunday Masses.
Holy Innocents is also open for silent prayer from 6:30 am to 6:00 pm Sunday through Saturday.
Our Lady of Pompeii Chapel is only open for Mass on Tuesdays at 5:30 pm (maximum 20 people).
PASTOR'S GREETINGS   Sunday, 1/10/20
This is a day to rejoice as we celebrate the feast of the Lord's Baptism and the conclusion of the festive Christmas Season. However, the recent events in Washington, D.C. and the challenges facing our country have left most of us feeling far from celebratory.
But on this day of remembering Christ's baptism we have an opportunity to remember that our God is first and foremost a God of unity – the very Source of Unity – and that through the grace of our common baptism, you and I have access to that source of all unity. As we begin this new year, may we receive anew the gift of union with Jesus so that our every word and action would be an invitation to others to receive and enter into the Lord's unity.
I'd like to share a few lines from a prayer written many years ago in the very first years of our nation's history by the very first Bishop of the United States, John Carroll. In 1791, after praying for the President, the Congress, the Governor, and all our civil authorities, he concluded by praying,
[O God] we recommend likewise to your unbounded mercy, all our brethren and fellow citizens throughout the United States, that they may be blessed in the knowledge and sanctified in the observance of your most holy law; that they may be preserved in union, and in that peace which the world cannot give; and after enjoying the blessings of this life, be admitted to those which are eternal. Amen.
Peace,
Fr. Luke
SAVE THE DATES
Friday, January 22nd, Day of Prayer for Life:  see above for details
Tuesday February 2nd, Candlemas: Come to the Church and Light a Candle:  On , we will celebrate Candlemas. This is a day of celebrating the moment when the infant Jesus was brought to the Temple to be consecrated to God. The lighting of candles is traditional for this day. In addition to a 6pm Candle-Mass that evening, all are invited to come to the church to light a candle anytime between 8am and 6pm day. We will have many candles available to be lit and I hope we are able to fill the church with their light! – and with the prayers that each candle symbolizes.

Online Faith Formation Program (Informed):  You are invited to check out the FORMED site, which is like a "Netflix" of Catholic resources giving you 24/7 access to over 300 quality Catholic online programs, 99+ movies, 101+ audios, & 98+ E- Books. It's Free!  Follow these steps to access the subscription:  1. go to Formed   2. select "Sign Up"   3. select "Sign up as a parishioner"  4. enter "Holy Innocents Church 431 Bedford Rd. Pleasantville 5. enter your name and email address   6.  start watching! Today we celebrate The Baptism of the Lord. Study: Reborn or Wild Goose, Segment 3: Baptism in the Holy Spirit and Fire, Segment 7: The Spirit of Adoption, or Segment 8: The Spirit and the Sacraments. Watch Ready Reasons: Is Baptism Necessary for Salvation?, or Listen to: Changed Forever or Our Beautiful End.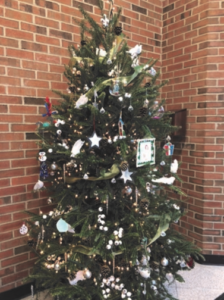 RELIGIOUS EDUCATION:  The Religious Education program wishes to thank Mrs. Wanda DeJesus and the decorating committee for inviting our children to participate in decorating the Christmas tree in the Narthex. We were invited to add an ornament to the tree that was of importance to us. It could be something that represented our nationality, our favorite sports team or something significant about our family and our Christmas traditions. The bigger picture was that we take our uniqueness and add and blend it to the Holy Innocents family, making that family richer. Thank you to all of our Religious Education families who contributed and thank you to the Decorating committee for the beautiful job they did preparing our church for the celebration of the Christmas season, and allowing us to be a part of it!
BLESSING OF THE NEW DOORS AT HOLY INNOCENTS and OUR LADY OF POMPEII: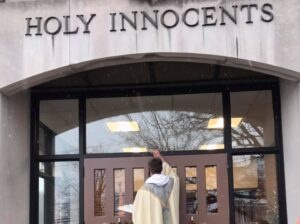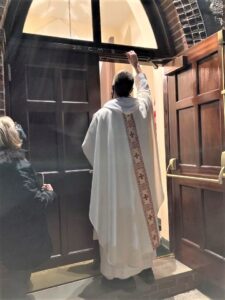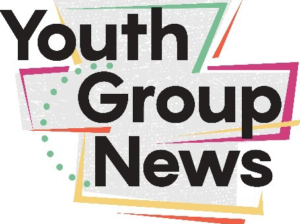 Youth Mass:  Every 1st Sunday of the month @ the 5:15pm Sunday Mass.
Meetings: Every 2nd and 4th Sunday of the month.
Please email youthgroup@hiparish.org for more info.

COMMUNION CALLS
If you would like to receive Holy Communion in your home, please let us know by sending an email to Fr. Leo Camurati. He is happy to be in touch with you about coordinating regular visits.
Please pray for the safety of our police officers, firefighters, all first responders and all health care workers, and for the safety of our men and women in the military, especially those who are serving overseas.

Holy Innocents Weekly Email
If you would like to receive this weekly email, please click here to send your request.
During this difficult time, the following resources are available:
Hallow  a prayer app that offers guided meditation sessions to help us grow in our faith & spiritual lives and find peace in God
Magnificat  a monthly publication to help follow the daily Mass can also be read at home or wherever you find yourself for personal or family prayer
POPE FRANCIS' MESSAGE:  Please take a few minutes and read Pope Francis's message to the city of Rome and the world.  It is simple, direct and beautiful.   Click Here for Pope Francis's Message
THE DOMINICAN ROSARY Glorious Mysteries:  click on arrow below to start Rosary; double click to enlarge
COLLECTION OF FOOD FOR THOSE IN NEED:  We continue to collect non perishable food items for those in need. Please drop them off in the front of Church or at the side door. People request help with food every day. Thank you. 
LETTER FROM OUR DOMINICAN PROVINCIAL:   Child Abuse
Parish E-mail Newsletter:  If you would like to receive future e-mails, please sign up under the "Contact Us" link on the top right of this page.
Gifts to Holy Innocents Church: Please consider remembering Holy Innocents Church in your will or estate. These gifts have a lasting impact on our parish.
PRAYERS:
The Dominican Rosary
Prayer to St. Michael the Archangel said after Mass
Prayer to the Virgin Mary for Protection
Spiritual Communion Prayer – said at live Mass