PARISH NEWS & UPCOMING EVENT
All Live Steam Services at Holy Innocents can be viewed by clicking on the Facebook link to the right.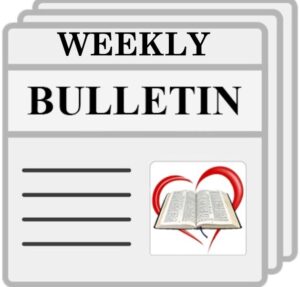 Click on the Weekly Bulletin to view the Mass Intentions, Readings and Parish Announcements. We would like to thank all of our weekly bulletin advertisers.  When you find yourself in need of goods & services, please consider our sponsors. Tell them you saw their ad in the weekly bulletin.
LITURGY NOTES AND READINGS FOR THE 26th SUNDAY IN ORDINARY TIMES – September 26th
PASTOR'S GREETINGS:  Autumn greetings!
This season always conjures up in me a sense of new beginnings. Although flowers and trees retreat during this time, in our human communities, many things begin in the fall – grade schools, symphony programs, universities, football….and parish offices. Although our liturgical calendar begins anew around the beginning of December, it is in the fall that many people return home after summer travels and that we begin to prepare once again for the liturgical seasons of Advent, Christmas, Lent, and Easter.
This fall is also a new beginning in our parish in a special way: we mark the return of children to our parish's religious education program for onsite classes. After being entirely virtual last year, having children return once more to our classrooms feels new indeed. Thank you to Roxanne and Roseann for their work in preparing for this year. Thank you to the volunteer catechists, assistants, and helpers who are making this school year possible. Thank you to Jim in his preparations of the facility space.
Please pray for the staff and volunteers as they begin the work of this year. And please pray also for the children and families in the program – may every grace that God desires to give them during these next nine months be theirs.
Peace,
Fr. Luke
FR. CAMURATI'S CORNER: 9/26/2021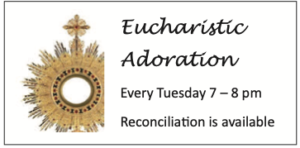 EUCHARISTIC ADORATION:  A BEGINNER'S GUIDE:  more information
FINANCE CORNER: Sunday Collection + We Share:   Sept. 19:   $8,203
UPCOMING HAPPENINGS:
–  WeShare Online Giving Sign Up:  will be held the weekend of September 25th/26th in the social hall.
–  "25th & 50th" Wedding Anniversary:  Sunday, October 17th parishioners who are celebrating their 25th or 50th Wedding Anniversary
during 2021 will be recognized at the 11:00am Mass. If you wish to attend please call the Parish Office at 769-0025.
– Lector's Workbooks:  for the new liturgical year beginning Sunday, November 28th are available in the ushers room. 
RELIGIOUS EDUCATION:  The Religious Education program is looking forward to welcoming our students back to in-person
instruction beginning tomorrow, Monday, September 27th! For more Religious Education News go to Religious Education on the above tool bar and click on events.

ONLINE FAITH FORMATION PROGRAM:  You are invited to check out the FORMED site, which is like a "Netflix" of Catholic resources giving you 24/7 access to over 300 quality Catholic online programs, 99+ movies, 101+ audios, & 98+ E- Books. It's Free!  Wednesday is the Feast of Sts. Michael, Gabriel, Raphael, Archangels, and Saturday is the Memorial of the Guardian Angels. Watch: Defeating the Devil, Power and Dominions, or Angels. Listen to: Defeating Satan's Deadly Weapon Against Men, Angels Explained, or Former Satanist Becomes Catholic. Thursday Watch: The Example of St. Jerome, a Memorial for this Priest and Doctor of the
Church. Friday on her Memorial, Watch: Therese, Saint Therese of the Child Jesus, Miracle of Saint Therese, or The Secret of Saint Therese.
VOLUNTEER OPPORTUNITIES:
LIVE STREAM MASS:  Unless we find more volunteer help, October 3rd will be our last live-stream Mass. If you would like to become a live-stream volunteer, please contact the parish office. If we can find 4 volunteers, each volunteer would be committing to one Sunday per
month.
SNOW GROUP:  Consider joining the Holy Innocents Snow Group! Help keep our church walkways clear and safe. Volunteers needed for Saturdays and Sundays during snow season. Contact the parish office if you are able to help!
Holy Innocents Church Care Group: Get involved in caring for our church by cleaning and beautifying our parish space, keeping our facility looking its very best. We will meet on Saturdays twice monthly. Each participant may commit time according to their availability. All are welcome, ages 12 and up. (Yes, it can be a community service opportunity!)  Masks and distancing protocols will be followed. Contact Peggy DiCarlo (email: fredsgirls@hotmail.com or text: 914-450-9597) for more information.
YOUTH GROUP:   For information, please contact Julia DalCeredo.
PRAYING THE ROSARY:   On the 1st Saturdays in Honor of the Immaculate Heart of Mary, we will pray the Rosary after Mass.
During the month October we will pray the Rosary before the 7am daily Mass.
COLLECTION OF FOOD FOR THOSE IN NEED:  The Food Pantry is very grateful to the parishioners of Holy Innocents for their continued generosity. Our parish continues to provide food items to those who are in need. Please remember we cannot accept any perishable items including fresh fruit, cold cuts, meat etc. Thank you for your continued support!
JIGSAW PUZZLE SWAP:  Many people got through COVID lockdown by building jigsaw puzzles. If you have puzzles to swap, bring them to Mass on Sunday and leave them on the table in the parish hall. You're welcome to take any puzzles left there.
Parish E-mail Newsletter:  If you would like to receive future e-mails, please sign up under the "Contact Us" link on the top right of this page.
Please pray for the safety of our police officers, firefighters, all first responders and all health care workers, and for the safety of our men and women in the military, especially those who are serving overseas.
During this difficult time, the following resources are available:
Hallow  a prayer app that offers guided meditation sessions to help us grow in our faith & spiritual lives and find peace in God
Magnificat  a monthly publication to help follow the daily Mass can also be read at home or wherever you find yourself for personal or family prayer
POPE FRANCIS' MESSAGE:  Please take a few minutes and read Pope Francis's message to the city of Rome and the world.  It is simple, direct and beautiful.   Click Here for Pope Francis's Message
THE DOMINICAN ROSARY Glorious Mysteries:  click on arrow below to start Rosary; double click to enlarge
LETTER FROM OUR DOMINICAN PROVINCIAL:   Child Abuse
Gifts to Holy Innocents Church: Please consider remembering Holy Innocents Church in your will or estate. These gifts have a lasting impact on our parish.
PRAYERS:
The Dominican Rosary
Prayer to St. Michael the Archangel said after Mass
Prayer to the Virgin Mary for Protection
Spiritual Communion Prayer – said at live Mass