PARISH NEWS & UPCOMING EVENT
From the Pastor    23 FEB 2020
– Lent starts on Wednesday. It is a blessed and holy time for Catholics. No one likes Lent but it is our time. It is our time to stop, pray, fast and abstain. We do not like to say "No" to ourselves. But it teaches us to say "Yes" to God. We do not  like to call ourselves a sinner. But we confess our sins in order to grow closer to God. We do not hide from Lent, run from Lent or dread Lent. Lent is our time in the desert with God.
– Please let us know if there is any friend or family member who needs a visit from a priest at this time of the year. Be assured of our daily  prayers.
In Christ,
Fr. Ed Gorman, OP
Pray for snow. Go Friars!
ASH WEDNESDAY—February 26th
Holy Innocents Masses: 7:00 am, 12:15 pm, 3:30 pm, 7 pm
OLP: 8:00 am Mass
Lent:
– Ash Wednesday and Good Friday are days of fast and abstinence. Fridays are days of abstinence from meat. Abstinence from meat is required for those over the age of 14 and fasting is required for those between the ages of 18 and 59.  Prayers, fasting and almsgiving are penitential practices.
– Mass Schedule:  Holy Innocents: 7:00 am Monday thru Saturday; 12:15 pm Monday thru Thursday
OLP:  8:00 am Friday only
– Stations of the Cross:  Wednesdays 6:15 pm at Holy Innocents
SAVE THE DATE:
Bishop Barron's "Pivotal Players" A Documentary Series:  There will be a screening of four episodes of Bishop Barron's "Pivotal Players" documentary series each Thursday in February at 5 pm in the Holy Innocents Social Hall. Each episode is 60 minutes in length, with discussion following. All are invited to come and rediscover four saints who have made a lasting impact on the Church and on the world.
Feb. 27th….St. Thomas Aquinas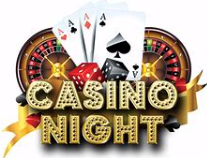 $60 per person in advance ($70 pp at the door). Includes: food, beer/wine, soft drinks and starter "play money." Prizes will be awarded to the top winners.  Come out and join us for a great night to celebrate our season and have some fun as a community! Everyone is welcome so bring your friends!! Proceeds to benefit Holy Innocents Parish.
 Click here for tickets.
Monday, March 9th – A Mass for Healing will be celebrated at Holy Rosary Church, Hawthorne at 7:30 pm. The celebrant will be Fr. Justin Cinnante, O. Carm.
Wednesday, March 5th:  Calling All Parishioners 55+! Come celebrate 12:15 Mass, followed by a hearty St. Patrick's Day themed lunch. The Leprechauns will be spreading the luck of the Irish while serving a delicious Shepherd's pie, soda bread and some sweet treats. Bring a friend.  *If you would like to help prepare or serve please contact Veronica at jcvcsc@gmail.com
Adult Confirmation Course:  This Lent, Holy Innocents will be offering a six-session course for adults who have not yet received the  Sacrament of Confirmation. The sessions will be held each Monday in Lent from 6:45 pm-7:45 pm, beginning on March 2nd and concluding with the reception of the Sacrament at the Easter Vigil on April 11th. If you are an adult Catholic who has not yet been confirmed, please consider taking this opportunity! For more details, contact Fr. Luke at:   lukehoyt@hiparish.org
JOIN US FOR AN EASTER EVENT, Sunday, March 15th at 10:00 am: Join us after the 9:00 am Mass for a faith based recreation program where you'll learn a fun way to share the Easter Story with your children! All children must be accompanied by an adult!
WHERE: Holy Innocents Social Hall RSVP: March 1st
————————————————————————-
REGISTRATION FORM
An Easter Story Event!
Sunday, March 15th at 10:00 nam
Please return this form to the Office at Holy Innocents
NAME: ____________________________
PHONE: ___________________
EMAIL:____________________________
ANY ALLERGIES WE SHOULD BE AWARE OF: __________________________
(or email holyinnocentsfamilyevents@gmail.com)


2020 Holy Innocents Parish Goal:  $63,000
# Parishioners Responding:                   59
% of Goal Reached:                                    29%      more information 
  EUCHARISTIC ADORATION:   A weekly Holy Hour with exposition of the Blessed Sacrament is held every Tuesday evening from 7-8 pm at Holy Innocents. If priest are available, Confessions can be heard during the Holy Hour. All are welcome and encouraged to join for these opportunities for resting in Our Lord's Eucharistic Presence.
Saints for YOUTH Retreat March 6 – 8: Teens, do you imitate others that you admire when making choices? Let CYFM introduce you to some truly exemplary men and women: the saints. Suffering and obstacles affect everyone; learn how to overcome them and live meaningfully and joyfully with a deeper relationship with God. Cost $125/pp for materials, meals & lodging; full/partial scholarships available. Register online: http://bit.ly/20CapSaints save $10.00 before 2/25. Application & non-refundable $75.00 deposit due by March 3. Find info/application and online registration at cyfm.org and follow us on Facebook, Twitter, Instagram and Flocknote: @CYFMGarrison.
Capuchin Youth & Family Ministries, 781 Route 9D, PO Box 192, Garrison, NY (845) 424-3609
PLEASANTVILLE HIGH SCHOOL PLAY:  Pleasantville High School will be hosting a free performance of its spring musical, The Little Mermaid for senior citizens and veterans on Wednesday, March 11th. There will be a reception at 4:30 pm and a performance of the show at 6:00 pm in the auditorium.

WITNESS FORMATION DAY:  Announcing a new initiative of the Respect Life Office for all in Westchester – Witness Formation Day. After the premier of the movie Unplanned—depicting the conversion story of Abby Johnson, a former Planned Parenthood manager—and in the aftermath of the devastating law permitting abortion until the moment of birth, many people have expressed a desire to pray and witness to the sanctity of human life outside abortion facilities. With the 40 Days for Life Campaign beginning on February 26th, it is important to give people the underlying spiritual and practical formation—the why's and how-to's—for praying outside of an abortion facility. A Witness Formation Day will do just that. Please join us: Sat. Feb. 29th @ St. Patrick's Church, Yorktown Heights, 137 Moseman Road. Day begins with Mass at 9 AM and ends at noon. Coffee and light refreshments provided.
Soul Shop: Ministering to Faith Communities Affected by Suicide March 9th 2020 -8:30 am—4:00 pm
Its estimated that one out of every two people in a given congregation has personality been affected by suicide. Soul Shop trains faith community leaders to offer support, hope and connection to those in their congregations. Co-sponsored by the American Foundation for suicide Prevention, Soul Shop equips participants with the resources and guidance they need to foster hope and healing in the community. Who should attend: Faith-based leaders Location: Calvary Baptist Church 32 E. Post Road, White Plains, NY
ONLINE GIVING:  The WeShare system is an automatic giving program that debits your credit card or bank account once or twice a month as you request and eliminates the use of envelopes.  Online giving is safe, simple, and convenient.  It benefits our parish by helping to streamline our administrative process and providing more accurate budgeting.  Please consider using the WeShare online giving system.  Click on  WeShare for more information and registration.
 recites the Rosary before Sunday Mass at 9:40 at Our Lady off Pompeii Chapel. All are welcome to join in. If you are interested in joining the Rosary Altar Society please contact Ginny at 769-2854
LETTER FROM OUR DOMINICAN PROVINCIAL:   Child Abuse
Online Faith Formation Program (Be-Informed):  To learn more about your faith, click on Religious Education above and then Be-Informed.  It's Free.
Parish E-mail Newsletter:  If you would like to receive future e-mails, please sign up under the "Contact Us" link on the top right of this page.
Gifts to Holy Innocents Church: Please consider remembering Holy Innocents Church in your will or estate. These gifts have a lasting impact on our parish.
PRAYER TO ST. MICHAEL:  Saint Michael, the Archangel, defend us in battle, be our defense against the wickedness and snares of the devil. May God rebuke him, we humbly pray; and do though, O Prince of the heavenly host, by the power of God, thrust into Hell Satan and other evil spirits who prowl about the world for the ruin of souls. Amen…St. Michael Pray for us.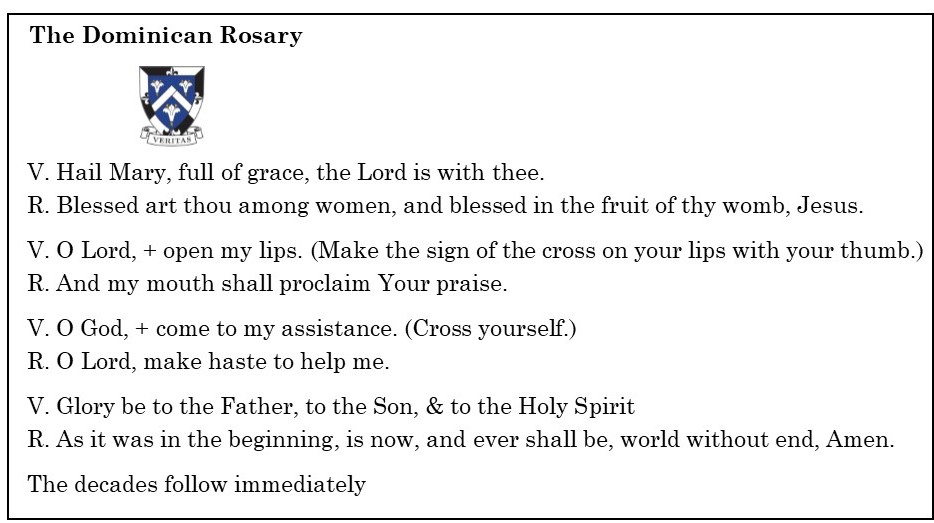 THE MONTHLY CALENDAR AND WEEK AHEAD:
February 2020 Monthly Calendar
Sunday, Feb. 23rd:
Baptism immediately following the 11:00 am
6:15 pm Youth Group Meeting
Monday, Feb. 24th:
11:00 am – Bible Study
Tuesday, Feb. 25th:
11:00 am – Lectio Divina
7 – 8 pm – Eucharistic Adoration
Wednesday, Feb 26th: Ash Wednesday
Masses at HI:  7:00 am, 12:15 pm, 3:30 pm, 7:00 pm
Masses at OLP:  8:00 am
Thursday, Feb. 27th:
12:15 pm Mass at HI
5:00 pm February Film – St. Catherine of Siena
Friday, Feb. 28th:
8:00 am Mass at OLP
Saturday, Feb. 29th:
4:30 pm – Teen Choir
Sunday, March 1st: