PARISH NEWS & UPCOMING EVENT
To view all services at Holy Innocents Church:    CLICK HERE

Live Mass:   Sunday 9:00 am
Live Holy Hour:  Tuesday 7:00 – 8:00 pm
Currently Holy Innocents Church is open from 6:30 am to 6:00 pm Sunday through Saturday for silent prayer. Our Lady of Pompeii Chapel is closed until further notice.
Spiritual Communion Prayer said at Live Mass:  (click here to print prayer)
My Jesus,
I believe that You are present in the Most Holy Sacrament.
I love You above all things,
and I desire to receive You into my soul.
Since I cannot at this moment receive You sacramentally,
come at least spiritually into my heart.
I embrace You as if You were already there
and unite myself wholly to You.
Never permit me to be separated from You.
Amen.
Springtime Greetings!                                Sunday, May 17, 2020
And indeed, the Spring appears to have finally arrived, with the first genuinely warm evening this past Friday. In our liturgical "seasons," we also feel the temperature changing. The Easter Season is nearing its completion as we celebrate the Solemnity of the Ascension this Thursday, followed by Pentecost nine days later, bringing a close to Paschaltide.
Amidst this seasonal change, we continue to await the answer to the question of when we will get to see each other in church again. However, in this Sunday's Gospel we hear Jesus say, "I will not leave you orphans; I will come to you." Although our world sometimes leaves us feeling "orphaned," the presence of the Risen Lord announces to us that we are never alone or abandoned.
Thanks to all who have continued to offer generous donations during this trying time. These gifts are much appreciated and are a great help to your parish.
In addition to our usual live-stream schedule, this week we will also have a Thursday 12 noon live-stream Mass of the Ascension of the Lord. We hope to "see" you there,
Fr. Luke
lukehoyt@hiparish.org
hiparishcouncil@hiparish.org

Please join us in praying for all of those who are being remembered in the Mass intentions for this week:
Antoinette Gesualdi

Kate Hewitt

Maria Josefa Aleivay Zambrano

Josephine & Philip Bochichio

Noelle Campbell

Joseph F. Nugent

Barbara F. Vaccaro

The Liu Family

Kay Stenderhoff

Louis Filice

Miguel Ortiz

Adrien E. Laurencelle
POPE FRANCIS' MESSAGE:  Please take a few minutes and read Pope Francis's message to the city of Rome and the world.  It is simple, direct and beautiful.   Click Here for Pope Francis's Message
A LETTER FROM THE PARISH COUNCIL:  March 28, 2020
Dear Parishioners,
Hope this finds you well. Sundays are very different these weeks, and we are all missing our church family. We are very grateful for daily Mass and please know we are working on streaming live Mass; more details on this as soon as it is available.
This is a note on another practicality – finance. We have held off addressing this, but given that this situation will likely be status quo for a few weeks, we wanted to reach out now. We are hoping to share some ideas for helping the parish financially (while normal weekly collections are non existent). These weekly collections are CRITICAL to keeping Holy Innocents paying monthly bills (utilities, lay salaries, etc.) and ministries (including parish community outreach which is especially important right now).
1. If you have not signed up for online parish pay (WeShare), simply click here to go directly to the WeShare website. Please note:
You can sign up for a one-time gift or a weekly option. Any amount helps.
You can discontinue these online gifts at any time.
Free free to email Parish Council and a member can walk you through the process.
2. You can mail your donation weekly to Holy Innocents Parish, 431 Bedford Rd, Pleasantville, NY 10570.
We know this may seem like a minor consideration given so many competing priorities right now, but please know that ongoing weekly donations are what keep the parish operating and able to keep its doors open to minister to the congregation and community.
LETTERS AND DIRECTIVES FROM CARDINAL DOLAN:  COVID-19   click on links below
Letter from Cardinal Dolan dated April 3, 2020
Directives from Archdiocese dated March 24, 2020
The History of Holy Rosary Parish, Rosary Hill Home, and Rose Hawthorne:  A group of Holy Rosary parishioners have been enjoying some speakers via Google Meet and thought that folks from Holy Innocents might be interested in this presentation.
When:  Wed. May 27, 2020 7 pm – 8 pm Eastern Time – New York
Where:  https://us02web.zoom.us/j/82037752656?pwd=RUtsVnhwY2RwK1FHdmdoUCthRnZTQT09 (map)
Joining info:  Join with Google Meet meet.google.com/zwc-giyx-pmu
For a bio of Rose Hawthorne: click on this link:  https://www.dropbox.com/s/b6la20zk267egs5/Mother_Alphonsa_intro_01.pdf?dl=0
Written 4 years after her death by her doctor, James Walsh. He has a MD, a PhD in literature and a doctorate in law, wrote about 30 books and was a graduate of Fordham.
THE DOMINICAN ROSARY Glorious Mysteries:  click on arrow below to start Rosary; double click to enlarge
MAGNIFICAT
During this difficult time, many of the faithful may be unable to attend Mass. To help them sanctify their day and to keep walking in the liturgical rhythm of the Church, we are honored to make our online version of MAGNIFICAT temporarily available to everyone for free.
Please help us spread this message and share this email and link: www.magnificat.com/free with as many people as you can. Free temporary access is also available in Spanish: www.magnificat.com/gratis.
COLLECTION OF FOOD FOR THOSE IN NEED:  We continue to collect non perishable food items for those in need. Please drop them off in the front of Church or at the side door. People request help with food every day. Thank you. 
LETTER FROM OUR DOMINICAN PROVINCIAL:   Child Abuse
Online Faith Formation Program (Be-Informed):  To learn more about your faith, click on Religious Education above and then Be-Informed.  It's Free.
Parish E-mail Newsletter:  If you would like to receive future e-mails, please sign up under the "Contact Us" link on the top right of this page.
Gifts to Holy Innocents Church: Please consider remembering Holy Innocents Church in your will or estate. These gifts have a lasting impact on our parish.
PRAYER TO ST. MICHAEL:  Saint Michael, the Archangel, defend us in battle, be our defense against the wickedness and snares of the devil. May God rebuke him, we humbly pray; and do though, O Prince of the heavenly host, by the power of God, thrust into Hell Satan and other evil spirits who prowl about the world for the ruin of souls. Amen…St. Michael Pray for us.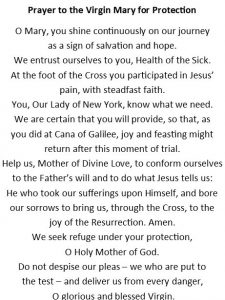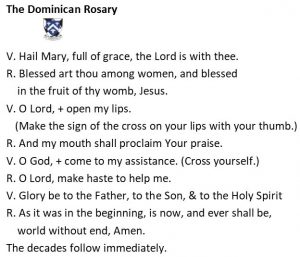 THE MONTHLY CALENDAR AND WEEK AHEAD: