PARISH NEWS & UPCOMING EVENT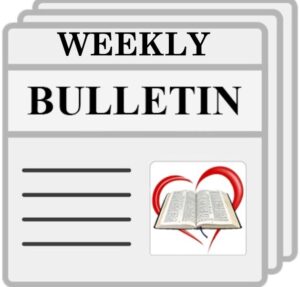 Click on the Weekly Bulletin to view the Mass Intentions,
Readings, Parish Announcements and business ads that help support our parish.
LENTEN RETREAT: FORGIVEN…a beautiful presentation for the transforming power of Confession.
Join us for our In-Person Retreat or Our Virtual/Zoom Retreat. Watch the trailer here!
The In Person Retreat will be held on Thursdays: March 4th, 11th & 18th at Holy Innocents Social Hall from 7 – 8 p.m.  There are 5 options for The Virtual/Zoom Retreat (small groups of 6-8 people).
To register for either and to pick your preferred zoom slot  Click Here   
Any questions email:  holyinnocentsparishevents@gmail.com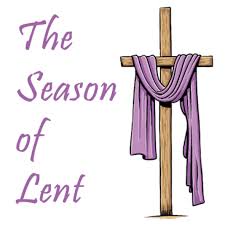 LENTEN SERVICES
12:15 pm Mass — Monday, Wednesday & Friday at Holy Innocents
5:30 pm Mass — Tuesday & Thursday at Our Lady of Pompeii
Stations of the Cross: Fridays at 6:15 pm at Holy Innocent
FASTING AND ABSTINENCE GUIDLINES
LITURGY NOTES AND READING SECOND SUNDAY OF LENT FEB 28th
GREETINGS FROM OUR PASTOR, FR. LUKE – Feb. 28th  CLICK HERE
ADULT SACRAMENT OF CONFIRMATION CLASS:  Are you not confirmed? Holy innocents will be holding an abbreviated schedule of classes for adults who have not yet received the Sacrament of Confirmation. We're hoping to do this starting in mid-February, with most classes hosted over remotely over Zoom. Should you have any questions, or would like to sign up, please contact the parish office at: office@hiparish.org or Fr. Leo at: leocamurati@hiparish.org.
OBSERVING THE FEAST OF ST. JOSEPH – Friday, March 19th:  Along with the rest of the Church, Holy Innocents will be marking St. Joseph's Day with solemnity on Friday, March 19th. St. Joseph is no slouch—he is patron of the Universal Church and patron to workers, fathers, and the sick and dying. Given that Pope Francis has declared this year to belong particularly to St. Joseph's patronage, we'll be having a few events that day to mark it well:
12:15 PM:  Solemn Mass in Honor of St. Joseph
7:00 PM:  1 hour Prayer Vigil and Healing Service in Honor of St. Joseph.
Any questions or concerns can be directed to Fr. Leo at:  leocamurati@hiparish.org.
RELIGIOUS EDUCATION: The Religious Education program is very proud to announce a new video series: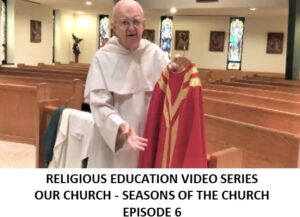 Our Church:
Learning about Holy Innocents with Fr. Greg Doherty.
Episode 6:  Seasons of the Church
For previous episodes click on Religious Education in the tool bar
above, then click on Events.
This week in Mrs. Graj's Sixth grade class, they marked Lent with Butterflies. This activity is one of Mrs. Graj's yearly classroom events with her class. She beautifully modified it for our Coronavirus days, through her ZOOM session. This year, she placed the larva in individual cups labeled for each of her students. Each student then named their larva, and Mrs. Graj wrote the name on the cup so each week they can monitor and watch their "buddy" grow and transform.  The activity is designed to be an exciting way for the children to mark their Lenten journey. As the weeks of Lent progress, the students will watch the larva/caterpillars grow into butterflies! Just as we are growing closer to our Lord and being transformed into something new and beautiful through our Lenten Journey. Thank you to Mrs. Graj for continuing this activity for our children! Thank you to all of the students in Mrs. Graj's class for participating in this beautiful activity. We look forward to the pictures of your "buddies" when their transformation is complete!

ONLINE FAITH FORMATION PROGRAM:  You are invited to check out the FORMED site, which is like a "Netflix" of Catholic resources giving you 24/7 access to over 300 quality Catholic online programs, 99+ movies, 101+ audios, & 98+ E- Books. It's Free!   Today is the 2nd Sunday in Lent. Study: The Search or listen to: Stations of the Cross, Glimpses Along the Way of the Cross, Meditations on the Stations of the Cross, or Love- Sacrifice- Trust- He Showed Us the Way.
VOLUNTEER OPPORTUNITY – HOLY INNOCENTS CHURCH CARE GROUP:  Get involved in caring for our church by cleaning and beautifying our parish space, keeping our facility looking its very best. We will meet on Saturdays twice monthly between 10am and 2pm, starting March 6th. Each participant may commit time according to their availability. All are welcome, ages 12 and up. (Yes, it can be a community service opportunity!) Masks and distancing protocols will be followed. Contact Peggy DiCarlo for more information (or text: 914-450-9597).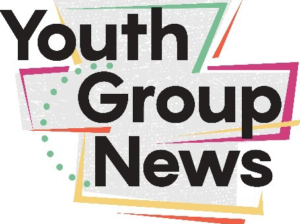 Youth Mass:  Every 1st Sunday of the month @ the 5:15pm Sunday Mass.
Meetings: Every 2nd and 4th Sunday of the month.
 Please email youthgroup@hiparish.org for more info.

COMMUNION CALLS
If you would like to receive Holy Communion in your home, please let us know by sending an email to Fr. Leo Camurati. He is happy to be in touch with you about coordinating regular visits.
Please pray for the safety of our police officers, firefighters, all first responders and all health care workers, and for the safety of our men and women in the military, especially those who are serving overseas.

Holy Innocents Weekly Email
If you would like to receive this weekly email, please click here to send your request.
During this difficult time, the following resources are available:
Hallow  a prayer app that offers guided meditation sessions to help us grow in our faith & spiritual lives and find peace in God
Magnificat  a monthly publication to help follow the daily Mass can also be read at home or wherever you find yourself for personal or family prayer
POPE FRANCIS' MESSAGE:  Please take a few minutes and read Pope Francis's message to the city of Rome and the world.  It is simple, direct and beautiful.   Click Here for Pope Francis's Message
THE DOMINICAN ROSARY Glorious Mysteries:  click on arrow below to start Rosary; double click to enlarge
COLLECTION OF FOOD FOR THOSE IN NEED:  We continue to collect non perishable food items for those in need. Please drop them off in the front of Church or at the side door. People request help with food every day. Thank you. 
LETTER FROM OUR DOMINICAN PROVINCIAL:   Child Abuse
Parish E-mail Newsletter:  If you would like to receive future e-mails, please sign up under the "Contact Us" link on the top right of this page.
Gifts to Holy Innocents Church: Please consider remembering Holy Innocents Church in your will or estate. These gifts have a lasting impact on our parish.
PRAYERS:
The Dominican Rosary
Prayer to St. Michael the Archangel said after Mass
Prayer to the Virgin Mary for Protection
Spiritual Communion Prayer – said at live Mass