PARISH NEWS & UPCOMING EVENT
*** The parish office will be closed Monday, July 4th. There will be an 8am Mass—no 12:15pm Mass ***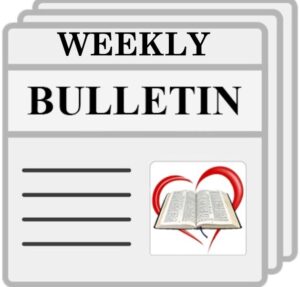 Click on the Weekly Bulletin to view the Mass Intentions, Readings and Parish Announcements.
We would like to thank all of our weekly bulletin advertisers.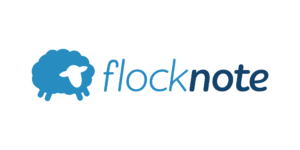 STAY IN TOUCH WITH HOLY INNOCENTS PARISH
Add your name to our email list by clicking on the flocknote icon
PARISH SUMMER OFFICE HOURS:  Beginning Wednesday, June 1st, the parish office will be opened M – F 9:00 am to 1:30 pm.
PASTOR'S GREETINGS:  July 3rd
FR. CAMURATI'S CORNER:  July 3rd
LITURGY NOTES AND READINGS FOR THE 14th SUNDAY IN ORDINARY TIME  July 3rd
Heart Speaks to Heart
Devotions Held Every First Friday of the Month at Holy Innocents
12:15 PM Daily Mass
12:45 PM – 5:45 PM Eucharistic Adoration
6:00 PM Candlelit Mass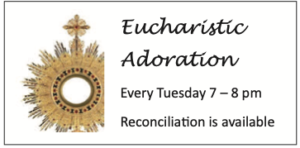 EUCHARISTIC ADORATION:  A BEGINNER'S GUIDE:  more information
FINANCE CORNER:  Weekly:   June 19th     $9,979   
HOLY INNOCENTS PARISH RAFFLE:  The Holy Innocents Raffle has begun and parishioners should expect to receive mailings. We have partnered with St. Roch Church in Greenwich, CT for a multi-parish raffle. I hope you will join our parish in this important fundraiser. Holy Innocents will receive 50% of our total ticket sales.
CRAFT FAIR:  

To All Hand Crafted Vendors!
Date: September 17th
Vendors interested in signing up,
click here
to print application or stop by or call the church office for an application. Hand made or hand crafted items only will be accepted.
RELIGIOUS EDUCATION:  Holy Innocents Religious Education is happy to announce on-line registration for the 2022-2023 school year. Please go to the Religious Education tab above and click on  Registration Information for forms and links to register either on-line or via paper forms and check.
POPE FRANCIS' JULY PRAYER INTENTIONS:  "The Elderly"  We pray for the elderly, who represent the roots and memory of a people; may their experience and wisdom help young people to look towards the future with hope and responsibility.

ONLINE FAITH FORMATION PROGRAM:  You are invited to check out the FORMED site, which is like a "Netflix" of Catholic resources giving you 24/7 access to over 300 quality Catholic online programs, 99+ movies, 101+ audios, and      98+ E- Books. It's Free!  July 4th is Independence Day. Watch: FORMED Now!: The Gospel and Freedom, Freedom (The Movie), or The Wild Goose, segment 12, The Spirit's Freedom. Also listen to: Blessed Pier Giorgio Frassati- Man of the Beatitudes. Wednesday is the Memorial of St. Maria Goretti, Virgin & Martyr. Watch: Saint Maria Goretti:  Fourteen Flowers of Pardon or listen to: Truth to Inspire: St. Maria Goretti.

GET INVOLED and UPCOMING EVENTS:
Bible Study:  This summer our two student brothers, Br. Vincent and Br. Charles, will be leading a Bible Study on Thursday nights at 7:00 PM. Starting on June 16th and ending on July 21st, each session will involve a video presentation and discussion. The theme is Fulfillied:  Uncovering the Biblical Foundations of Catholicism. For more information, please contact the Parish Office (769-0025) .
Fr. Philip Nolan, OP who was with us last summer as a deacon is visiting Holy Innocents on Sunday July 3rd to be the celebrant for our 11am Mass. Come join us for this special occasion to thank God for a new priest and to say congratulations to Fr. Philip!
Please join us every 2nd, 3rd & 4th Friday of the month at 3pm to pray the Divine Mercy Chaplet in Song
Coffee and Donuts – every 2nd and 4th Sunday of the month following the 11am Mass. Contact the office (914-769-0025) if you would like to volunteer to help with this service.
The Rosary Altar Society:  Meetings are held on the first Sunday of the month at Our Lady Pompeii Chapel after the 10am Mass. Anyone wishing to join our group please contact Ginny Brentano @ 769-2854.
Fr. Leo's Book Club – Interested in reading some of the classics of Christian Literature? The Book Club meets on Wednesdays at 5:15 pm in the Social Hall. All are welcome to join. Schedule Change:  Book Club is adjusting for the summer to monthly meetings. We will be meeting the first Wednesday of each month and discussing the whole book. The month's selection for our July 6th meeting: "In the Grip of Light" by Paul Murray, O.P. Copies are available in the office.

Holy Innocents Church Care Group:

Get involved in caring for our church by cleaning and beautifying our parish space, keeping our facility looking its very best. We will meet on Saturdays twice monthly. Each participant may commit time according to their availability. All are welcome, ages 12 and up. (Yes, it can be a community service opportunity!)  Masks and distancing protocols will be followed. Contact Peggy DiCarlo (email: fredsgirls@hotmail.com or text: 914-450-9597) for more information.
The Holy Innocents Knitting Group:  meets the first Thursday of every month in the social hall conference room at 7:30 PM. No experience necessary: we are happy to teach you. We are working on several charity projects. For more information please contact Liz Dieter or Kathy Dunne via the office.

Ecumenical Vacation Bible School: 

August 8-12 at Holy Innocents Church – 9 am – Noon
Welcome Back!  Go to Pleasantville EVBS   to register!
Theme for this year:  Discovery on Adventure Island, Quest for God's Great Light
PLEASE KEEP US INFORMED: 
It is important that your information is up to date with the parish office. If your name, address, phone, or email has changed,
email us
. You can also stop by the Parish Office or call us at 914-769-0025 (M-F) and we will be happy to take your information changes.

YOUTH GROUP: 
All Students in Grades 9-12 are welcome.  For information, please contact Julia DalCeredo.
COLLECTION OF FOOD FOR THOSE IN NEED:  The Food Pantry is very grateful to the parishioners of Holy Innocents for their continued generosity. Our parish continues to provide food items to those who are in need. All food donations must be delivered 
to the Parish Office during office hours (M-F, 9am-3:30pm).  Do not leave donations in the entrances.

JIGSAW PUZZLE SWAP: 
Many people got through COVID lockdown by building jigsaw puzzles. If you have puzzles to swap, bring them to Mass on Sunday and leave them on the table in the parish hall. You're welcome to take any puzzles left there.

Parish E-mail Newsletter:  If you would like to receive future e-mails, please sign up under the "Contact Us" link on the top right of this page.
Please pray for the safety of our police officers, firefighters, all first responders and all health care workers, and for the safety of our men and women in the military, especially those who are serving overseas.

POPE FRANCIS' MESSAGE:  Please take a few minutes and read Pope Francis's message to the city of Rome and the world.  It is simple, direct and beautiful.   Click Here for Pope Francis's Message

THE DOMINICAN ROSARY Glorious Mysteries:  click on arrow below to start Rosary; double click to enlarge
LETTER FROM OUR DOMINICAN PROVINCIAL:   Child Abuse
Gifts to Holy Innocents Church: Please consider remembering Holy Innocents Church in your will or estate. These gifts have a lasting impact on our parish.
PRAYERS:
The Dominican Rosary
Prayer to St. Michael the Archangel said after Mass
Prayer to the Virgin Mary for Protection