PARISH NEWS & UPCOMING EVENT
From the Pastor   12 JAN 2020
– Today we celebrate the Baptism of our Lord and the end of the Christmas season. Again, we thank all who helped decorate and will help clean up. We appreciate your time and dedication.
– We beg God for peace at this time with all that is happening in our world. We pray for peace, are people of peace and live with the peace of Christ alive in our heart, mind and soul.
– Be assured of our daily prayers for you and your family.
In Christ,
Fr. Ed Gorman, OP,  Dominican Friars
Pray for LSU and snow!
**PLEASE NOTE**  SATURDAY MORNING MASS TIME CHANGE
Beginning Saturday, January 4, 2020 the 8:30 am Saturday morning Mass will be at 7:00 am, not 8:30 am

EUCHARISTIC ADORATION:   A weekly Holy Hour with exposition of the Blessed Sacrament is held every Tuesday evening from 7-8 pm at Holy Innocents. If priest are available, Confessions can be heard during the Holy Hour. All are welcome and encouraged to join for these opportunities for resting in Our Lord's Eucharistic Presence.
MARCH FOR LIFE 2020:  Come and support the most defenseless members of humanity by making the trip to Washington, DC for the 2020 March for Life on January 24th. We will be joining a few other local parishes in chartering a bus to bring us down and back. RSVP to Fr. Luke (lukehoyt@hiparish.org) if you would like to join in this peaceful protest. Cost for the trip is $50 for adults and $25 for students.
Baptism Class:  The next Baptism Class for parents will be held on Tuesday, January 13th at 6 pm.
BIBLE STUDY :  Fr. Doherty will begin on Monday, January 27th at 11:00 am in the Holy Innocents Meeting Room
2019 TAX LETTERS:  The 2019 Tax Letters are mailed upon request. If you would like a copy of your 2019 donations please call the parish office at 914-769-0025.
END OF YEAR DONATIONS FOR CHURCH AND HALL RENOVATIONS:
Church Front Doors:
$ 3,000/Door;   6 Doors $ 18,000 Total
Church Kitchen: 
Freezer $ 2,0000;  Microwave $ 350;   Dishwasher $ 4,500;   Stove $ 5,000;   Cabinets $ 20,000
Floor $ 2,500;   Stone Counter top $ 6,000
ONLINE GIVING:  The WeShare system is an automatic giving program that debits your credit card or bank account once or twice a month as you request and eliminates the use of envelopes.  Online giving is safe, simple, and convenient.  It benefits our parish by helping to streamline our administrative process and providing more accurate budgeting.  Please consider using the WeShare online giving system.  Click on  Give Online   for more information and registration.
THE ROSARY ALTAR SOCIETY:  recites the Rosary before Sunday Mass at 9:40 at Our Lady off Pompeii Chapel. All are welcome to join in. If you are interested in joining the Rosary Altar Society please contact Ginny at 769-2854
LETTER FROM OUR DOMINICAN PROVINCIAL:   Child Abuse
Online Faith Formation Program (Be-Informed):  To learn more about your faith, click on Religious Education above and then Be-Informed.  It's Free.
Parish E-mail Newsletter:  If you would like to receive future e-mails, please sign up under the "Contact Us" link on the top right of this page.
Gifts to Holy Innocents Church: Please consider remembering Holy Innocents Church in your will or estate. These gifts have a lasting impact on our parish.
PRAYER TO ST. MICHAEL:  Saint Michael, the Archangel, defend us in battle, be our defense against the wickedness and snares of the devil. May God rebuke him, we humbly pray; and do though, O Prince of the heavenly host, by the power of God, thrust into Hell Satan and other evil spirits who prowl about the world for the ruin of souls. Amen…St. Michael Pray for us.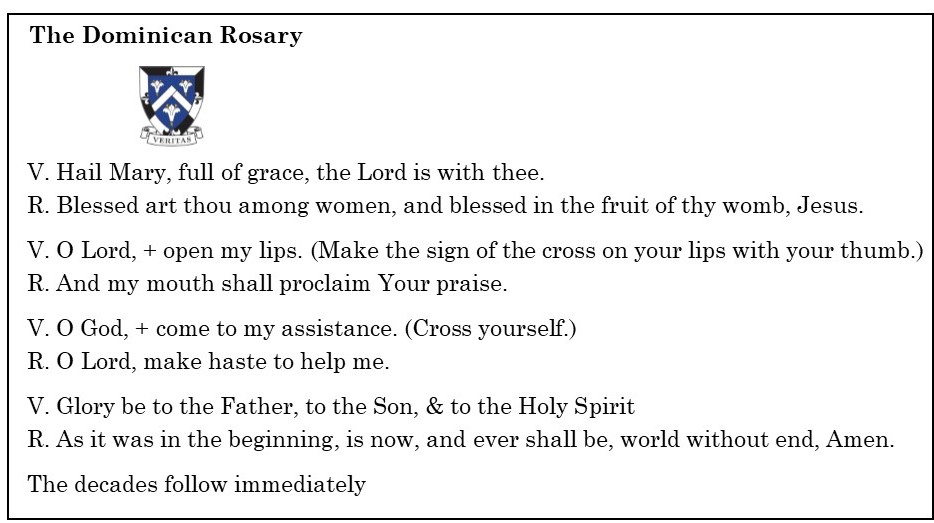 THE MONTHLY CALENDAR AND WEEK AHEAD:

Sunday, Jan 12th:
2nd Collection Maintenance
Baptisms immediately following 11 am Mass
Monday, Jan 13th:
6:00 pm – Baptism Class (parents)
Tuesday, Jan 14th:
11:00 am – Lectio Divina
7 – 8 pm – Eucharistic Adoration
Wednesday, Jan 15th:
6:00 pm – Junior Choir
7:15 pm – Adult Choir
Thursday, Jan 16th:
Friday, Jan 17th:
Saturday, Jan 18th:
4:30 pm – Teen Choir
Sunday, Jan 19th:
Youth Group Breakfast Run