PARISH NEWS & UPCOMING EVENT
This Saturday, December 4th, Cardinal Dolan will be celebrating the 5:15pm Mass at Holy Innocents. All are invited.
All Live Steam Services at Holy Innocents can be viewed by clicking on the Facebook link to the right.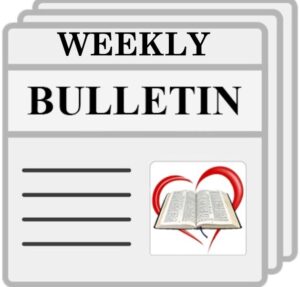 Click on the Weekly Bulletin to view the Mass Intentions, Readings and Parish Announcements. We would like to thank all of our weekly bulletin advertisers.  When you find yours
PASTOR'S GREETINGS:  First Sunday of Advent
LITURGY NOTES AND READINGS FOR THE FIRST SUNDAY OF ADVENT – November 28th
FR. CAMURATI'S CORNER:  11/28/2021
ADVENT VIGILS:  Time and Dates
MASSES FOR THE HOLY DAY OF OBLIGATION FOR THE IMMACULATE CONCEPTION:
Tuesday, Dec. 7    Vigil Mass at 5:15 at Holy Innocents (There is no Mass at OLP on Tuesday, Dec. 7)
Wednesday, Dec. 8 Mass at 7am and 12:15pm at Holy Innocents
CHRISTMAS WEEK SCHEDULE:  
Reconciliation Monday, December 20th:  Confessions available at Holy Innocents: 11am—1pm; 6pm—8pm
Christmas Mass Schedule (Reservations not required)
Friday, December 24th:  Christmas Eve Masses – 4pm, 6pm & 10pm
Saturday, December 25th:  Christmas Day Masses  7:30am, 9am & 11am and 5:15pm Quiet Mass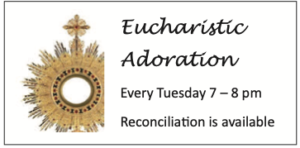 EUCHARISTIC ADORATION:  A BEGINNER'S GUIDE:  more information
FINANCE CORNER:  Due to holiday Bulletin deadlines, there will be delays in the Finance information.
EOY 2021 Finance Report Pg 1
EOY 2021 Finance Report Pg 2
UPCOMING NEW & HAPPENINGS
–  FR. LEO'S "BOOK CLUB" Wednesdays at 5:15pm. Interested in reading some of the classics of Christian Literature?
The Book Club we've mentioned the past few weeks will be meeting on Wednesdays at 5:15pm in the Social Hall. All are welcome to join.
–  Giving Tree:  Saturday, Nov. 27th:  "Virtual Giving Tree" will be set up in the Social Hall (more info.). Given the success of last year's event, we will use sign-up genius to create "tags" for you to choose again this year. To Reserve A Gift Tag Sign-up on Genius
–   Lector's Workbooks:  for the new liturgical year beginning Sunday, November 28th are available in the ushers room
CYO BASKETBALL:  Attention all CYO FRIARS  It is suggested you try on your uniforms & keep what will work for this season. Supply chain/inventory issues are real. There may be delays & it's a shortened season. However, if you have a uniform (jersey or shorts only) that you will no longer use, does not fit, can't pass on to a sibling, neighbor or friend and would be so kind as to donate back to the program- It will be greatly appreciated! There will be a bin at the social hall entrance starting 11/16. NEW Uniform ordering info coming soon.
POPE FRANCIS' NOVEMBER PRAYER INTENTION: "People Who Suffer from Depression" We pray that people who suffer from depression or burn-out will find support and a light that opens them up to life.

ONLINE FAITH FORMATION PROGRAM:  You are invited to check out the FORMED site, which is like a "Netflix" of Catholic resources giving you 24/7 access to over 300 quality Catholic online programs, 99+ movies, 101+ audios, & 98+ E- Books. It's Free!  Today is the First Sunday of Advent. Watch: Advent, Opening the Word- First Sunday in Advent, Formed Daily- Advent, or Prepare the Way with Bob Rice. Listen to: Prepare the Way of the King, Holiness is Always in Season, or Advent: Rethinking the Season. To learn more about St, Catherine Laboure, listen to: Truth to Inspire: Our Lady of the Miraculous Medal. The 30th is the Feast of St. Andrew, Apostle. Watch: St. Andrew: After the Upper Room.
VOLUNTEER OPPORTUNITIES:
The Holy Innocents Community Outreach Committee:   is compiling a list of household destinations for holiday donations. If you know of anyone in need, please contact:  hicares@hiparish.org
SNOW GROUP:  Consider joining the Holy Innocents Snow Group! Help keep our church walkways clear and safe. Volunteers needed for Saturdays and Sundays during snow season. Contact the parish office if you are able to help!
Holy Innocents Church Care Group: Get involved in caring for our church by cleaning and beautifying our parish space, keeping our facility looking its very best. We will meet on Saturdays twice monthly. Each participant may commit time according to their availability. All are welcome, ages 12 and up. (Yes, it can be a community service opportunity!)  Masks and distancing protocols will be followed. Contact Peggy DiCarlo (email: fredsgirls@hotmail.com or text: 914-450-9597) for more information.
YOUTH GROUP:
•Dec. 5th—Youth Group Meeting at 6:15pm
•Dec. 12th—Giving Tree Event from 4:15-6:15pm
•Dec. 12th—Youth Group Meeting at 6:15pm
All Students in Grades 9-12 are welcome.  For information, please contact Julia DalCeredo.
COLLECTION OF FOOD FOR THOSE IN NEED:  The Food Pantry is very grateful to the parishioners of Holy Innocents for their continued generosity. Our parish continues to provide food items to those who are in need. Please remember we cannot accept any perishable items including fresh fruit, cold cuts, meat etc. Thank you for your continued support!
JIGSAW PUZZLE SWAP:  Many people got through COVID lockdown by building jigsaw puzzles. If you have puzzles to swap, bring them to Mass on Sunday and leave them on the table in the parish hall. You're welcome to take any puzzles left there.
Parish E-mail Newsletter:  If you would like to receive future e-mails, please sign up under the "Contact Us" link on the top right of this page.
Please pray for the safety of our police officers, firefighters, all first responders and all health care workers, and for the safety of our men and women in the military, especially those who are serving overseas.
During this difficult time, the following resources are available:
Hallow  a prayer app that offers guided meditation sessions to help us grow in our faith & spiritual lives and find peace in God
Magnificat  a monthly publication to help follow the daily Mass can also be read at home or wherever you find yourself for personal or family prayer
POPE FRANCIS' MESSAGE:  Please take a few minutes and read Pope Francis's message to the city of Rome and the world.  It is simple, direct and beautiful.   Click Here for Pope Francis's Message
THE DOMINICAN ROSARY Glorious Mysteries:  click on arrow below to start Rosary; double click to enlarge
LETTER FROM OUR DOMINICAN PROVINCIAL:   Child Abuse
Gifts to Holy Innocents Church: Please consider remembering Holy Innocents Church in your will or estate. These gifts have a lasting impact on our parish.
PRAYERS:
The Dominican Rosary
Prayer to St. Michael the Archangel said after Mass
Prayer to the Virgin Mary for Protection
Spiritual Communion Prayer – said at live Mass