PARISH NEWS & UPCOMING EVENT
A LETTER FROM THE PARISH COUNCIL:  March 28, 2020
Dear Parishioners,
Hope this finds you well. Sundays are very different these weeks, and we are all missing our church family. We are very grateful for daily Mass and please know we are working on streaming live Mass; more details on this as soon as it is available.
This is a note on another practicality – finance. We have held off addressing this, but given that this situation will likely be status quo for a few weeks, we wanted to reach out now. We are hoping to share some ideas for helping the parish financially (while normal weekly collections are non existent). These weekly collections are CRITICAL to keeping Holy Innocents paying monthly bills (utilities, lay salaries, etc.) and ministries (including parish community outreach which is especially important right now).
1. If you have not signed up for online parish pay (WeShare), simply click here to go directly to the WeShare website. Please note:
You can sign up for a one-time gift or a weekly option. Any amount helps.
You can discontinue these online gifts at any time.
Free free to email Parish Council and a member can walk you through the process.
2. You can mail your donation weekly to Holy Innocents Parish, 431 Bedford Rd, Pleasantville, NY 10570.
We know this may seem like a minor consideration given so many competing priorities right now, but please know that ongoing weekly donations are what keep the parish operating and able to keep its doors open to minister to the congregation and community.
From the Pastor:      24 MAR 2020
–  We hope to celebrate Mass every morning and put the recording on our parish website: www.hiparish.org. Please pray with us.
–  If you need any assistance with errands or food shopping, please call the parish office at 914.769.0025. We have many volunteers willing to help.
–  Let us know if there is any friend or family member who needs a visit from a priest. Please let us know if we can help in anyway.
–  Confessions will be heard on Tuesday evenings from 6:00-7:00 pm or call. We are asked to have no more than 10 people in the Church at one time.
–  Be assured of our daily prayers during these challenging times. Church is always open 6:30 – 6:00 pm.
Fr. Ed Gorman, OP
gormanfriar@hiparish.org
cell 646.753.1703
We pray for peace and healing
MARCH 29th – 5th SUNDAY OF LENT
(click on arrow to start the Mass, double click for full screen)
For old Mass videos, click on Our Parish (above) and then on Mass Video Archive.
THE DOMINICAN ROSARY:  click on arrow below to start Rosary; double click to enlarge
DIRECTIONS FROM THE ARCHDIOCESE OF NEW YORK:  updated March 24, 2020
1. Baptisms administered by the ordinary minister of the sacrament within the parish setting are to be deferred, except in case of emergency. In these extreme instances, the faithful should contact a priest immediately.
2. Funeral Masses or services in the church or funeral home will no longer be conducted until further notice. Burial prayers may be said in an open air setting in a cemetery, as long as proper distancing of the ten people allowed by state regulation is maintained. They may not be held in a mortuary chapel. The family is to be assured that a memorial Mass will be offered as soon as possible after restrictions are lifted.
3. Weddings are not allowed, unless absolutely necessary. If a wedding must take place for some serious reason, only the bride, groom, two witnesses and the officiant may be present, all maintaining the proper physical distance. Permission to celebrate a wedding must be obtained from the office of the vicar general.
4. Individual confession may be offered upon request, as long as hygiene and physical distancing requirements are observed (i.e., a barrier between the penitent and the priest, such as a grille and cloth).
5. Holy Communion may be administered as viaticum only. The minister of communion must observe the safety protocols dictated by the civil authorities for the prevention of the spread of infection. Masses in convents will no longer be celebrated. The pastor or parochial vicar may consecrate a sufficient supply of hosts for the chapel tabernacle. One of the sisters may be mandated as an Extraordinary Minister of Holy Communion. A proper ritual will be followed for the distribution of the Eucharist.
6. If a pastor chooses to keep the parish church open for prayer:
• Definite hours must be announced.  0630 – 600pm
• No public ceremonies such as the Mass or group devotions may take place so as to prevent any assembling of people.
• Exposition may take place, but there is to be no Benediction or group devotions.
• The church must be cleaned and sanitized frequently in accord with the guidelines to prevent infection.
7. Parishes should suspend all office activity. Be certain that a priest can be reached in case of an urgent need for the sacrament of the anointing of the sick and viaticum.
8. Parishioners who are in hospitals will be attended to by the Catholic chaplain on staff.
MAGNIFICAT
During this difficult time, many of the faithful may be unable to attend Mass. To help them sanctify their day and to keep walking in the liturgical rhythm of the Church, we are honored to make our online version of MAGNIFICAT temporarily available to everyone for free.
Please help us spread this message and share this email and link: www.magnificat.com/free with as many people as you can. Free temporary access is also available in Spanish: www.magnificat.com/gratis.
LENT:
– Ash Wednesday and Good Friday are days of fast and abstinence. Fridays are days of abstinence from meat. Abstinence from meat is required for those over the age of 14 and fasting is required for those between the ages of 18 and 59.  Prayers, fasting and almsgiving are penitential practices.
HOLY WEEK MASS SCHEDULE:
Holy Thursday: 7:00 pm Mass of the Lord's Supper; 9:00 pm Prayer
Good Friday: 12:00 pm Stations of the Cross; 3:00 pm Sacred Liturgy
Holy Saturday: Easter Vigil Mass 8:00 pm
EASTER SUNDAY MASSES:
Holy Innocents:  7:30 am, 9:00 am, 11:00 am & 12:30 pm
Our Lady of Pompeii:  10:00 am
SAVE THE DATE:
Saturday April 18th– 12:30 pm – 1:45 pm Altar Server Luncheon at Holy Innocents Church. Join us for some learning, fun and lunch! RSVP to Fr.Luke at lukehoyt@hiparish.org  Contingent upon the resumption of normal activities. 
    COLLECTION OF FOOD FOR THOSE IN NEED:  We continue to collect non perishable food items for those in need. Please drop them off in the front of Church or at the side door. People request help with food every day. Thank you. We are in need of: Chicken Broth, Oatmeal, Coffee, Spam, Sardines, Canned Chicken, and Vegetable Oil. Thank you for your generosity!
PARISH COUNCIL NOMINATION PETITION:  The Parish Council of Holy Innocents is comprised of dedicated parishioners willing to  share their individual talents to serve the parish. The council works with the pastor and parish staff in an advisory capacity to support and enhance the life of the parish. Each year, new members are added to the council via a selection process. The term is for three years. If you are interested in nominating yourself or someone else for Parish Council, please fill in the following information (please print) and drop from in the Parish Council Nominating Box in the narthex or parish hall by Wednesday, April 22nd. For additional information or questions, contact Karen McCarthy at 914-769-1424.
Name: ______________________________
Phone: ______________________________
Email: ______________________________
Nominated BY (self or other): ____________


LETTER FROM OUR DOMINICAN PROVINCIAL:   Child Abuse
Online Faith Formation Program (Be-Informed):  To learn more about your faith, click on Religious Education above and then Be-Informed.  It's Free.
Parish E-mail Newsletter:  If you would like to receive future e-mails, please sign up under the "Contact Us" link on the top right of this page.
Gifts to Holy Innocents Church: Please consider remembering Holy Innocents Church in your will or estate. These gifts have a lasting impact on our parish.
PRAYER TO ST. MICHAEL:  Saint Michael, the Archangel, defend us in battle, be our defense against the wickedness and snares of the devil. May God rebuke him, we humbly pray; and do though, O Prince of the heavenly host, by the power of God, thrust into Hell Satan and other evil spirits who prowl about the world for the ruin of souls. Amen…St. Michael Pray for us.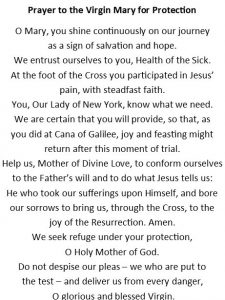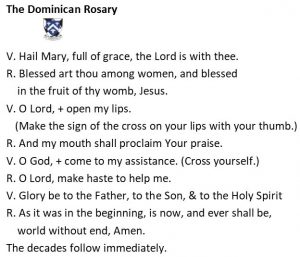 THE MONTHLY CALENDAR AND WEEK AHEAD: