PARISH NEWS & UPCOMING EVENT
All Live Steam Services at Holy Innocents can be viewed by clicking on the Facebook link to the right.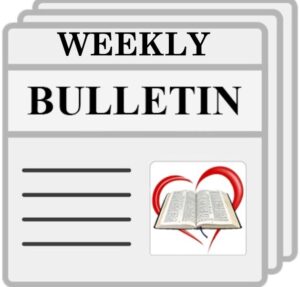 Click on the Weekly Bulletin to view the Mass Intentions, Readings and Parish Announcements. We would like to thank all of our weekly bulletin advertisers.  When you fin yourself in need of goods & services, please consider our sponsors. Tell them you saw their ad in the weekly bulletin.
LITURGY NOTES AND READING FOR THE SEVENTEENTH SUNDAY OF ORDINARY TIMES – JULY 25TH 
FEAST OF ST. DOMINIC:  Please join us for Masses on Sunday, August 8th to celebrate the Feast of St. Dominic, founder of the Dominican Order.
DONIMICAN SILENCE AND THE WORD:  In honor of the Feast of St. Dominic, the Parish is sponsoring a talk on prayer and spirituality. The talk, entitled "Dominican Silence and the Word", will focus on deepening your life of prayer through silence and contemplation, all framed in a Dominican context. Our speaker for the evening is Father Ignatius Schweizer, O.P., a Dominican serving at St. Mary's Parish in New Haven Connecticut. The talk will be on Thursday, August 5th, at 7 PM. For those unable to attend in person, it will be streamed over our Facebook page as well.
LECTIO DIVINA:  Lectio Divina is a traditional way of praying the Scriptures so that the Word of God may penetrate our hearts and that we may grow in an intimate relationship with the Lord. The Lectio Divina group meets every Wednesday at 11:00am. All are welcome.
Reading the Scriptures – Reflecting on the Meaning – Responding through Prayer and Action – Resting in God
WORLD DAY FOR GRANDPARENTS AND THE ELDERLY:  In late January 2021, Pope Francis announced he would establish the "World day for Grandparents and the Elderly." To be sure, some of our most faithful are counted among them. This year, for the celebration,
which falls on July 25th, the Pope has invited us to reflect upon the closeness of God and of the Church to every older person, through the words of Jesus, "I am with you always". "I am with you always" is a promise of closeness and hope that both young and old can mutually share. Not only are grandchildren and young people called upon to be present in the lives of older people, but older people and grandparents also have a mission of evangelization, of proclamation and prayer, and of encouraging young people in their faith.  A Childs's Prayer for Grandparents.
RELIGIOUS EDUCATION: The Religious Education program is very proud to announce a new video series: Our Church: Learning about Holy Innocents with Fr. Greg Doherty.  For all episodes click on Religious Education in the tool bar above, then click on Events.
Registration for the 2021-2022 year has begun!  All classes will be in-person.  First Grade through Fifth Grade will be offered Monday through Thursday. Sixth Grade will be on Monday evenings, Seventh Grade on Tuesday evenings, and Eighth Grade on Wednesday evenings.  Registration will continue through August 31st. The registration form can be emailed to Religious Education or mailed to the Parish office.  Feel free to email us with any questions.  Thank you!

ONLINE FAITH FORMATION PROGRAM:  You are invited to check out the FORMED site, which is like a "Netflix" of Catholic resources giving you 24/7 access to over 300 quality Catholic online programs, 99+ movies, 101+ audios, & 98+ E- Books. It's Free! Feast of St. Joachim & St. Anne, Parents of the Blessed Mother. Mary. Study: Beloved: Mystery & Meaning of Marriage or watch: Marriage: God's Design for Life and Love. Watch with kids: Lucas Storyteller: Saints Anne & Joachim. Saturday is the Memorial of St. Ignatius of Loyola, Priest and Religious Founder. Watch: St. Ignatius of Loyola. Read: The Spiritual Exercises of St. Ignatius of Loyola. Also listen to: Discerning Hearts: Discernment of Spirits, The Four Levels of Happiness, or Heroes of the Catholic Reformation.
VOLUNTEER OPPORTUNITIES:
Holy Innocents Church Care Group: Get involved in caring for our church by cleaning and beautifying our parish space, keeping our facility looking its very best. We will meet on Saturdays twice monthly. Each participant may commit time according to their availability. All are welcome, ages 12 and up. (Yes, it can be a community service opportunity!)  Masks and distancing protocols will be followed. Contact Peggy DiCarlo (email: fredsgirls@hotmail.com or text: 914-450-9597) for more information.
Help With 9 am Live Streaming Mass:  We are looking for additional volunteers to help with our 9am Sunday Mass live-streaming. Although the equipment is not highly specialized, some comfort with technology and Facebook is needed. If you are interested please contact  Fr. Luke by going to Contact on the black tool bar at the top of this page and sending him a message. Thank you for considering!
JIGSAW PUZZLE SWAP:  Many people got through COVID lockdown by building jigsaw puzzles. If you have puzzles to swap, bring them to Mass on Sunday and leave them on the table in the parish hall. You're welcome to take any puzzles left there.
Parish E-mail Newsletter:  If you would like to receive future e-mails, please sign up under the "Contact Us" link on the top right of this page.
Please pray for the safety of our police officers, firefighters, all first responders and all health care workers, and for the safety of our men and women in the military, especially those who are serving overseas.
During this difficult time, the following resources are available:
Hallow  a prayer app that offers guided meditation sessions to help us grow in our faith & spiritual lives and find peace in God
Magnificat  a monthly publication to help follow the daily Mass can also be read at home or wherever you find yourself for personal or family prayer
POPE FRANCIS' MESSAGE:  Please take a few minutes and read Pope Francis's message to the city of Rome and the world.  It is simple, direct and beautiful.   Click Here for Pope Francis's Message
THE DOMINICAN ROSARY Glorious Mysteries:  click on arrow below to start Rosary; double click to enlarge
COLLECTION OF FOOD FOR THOSE IN NEED:  We continue to collect non perishable food items for those in need. Please drop them off in the front of Church or at the side door. People request help with food every day. Thank you. 
LETTER FROM OUR DOMINICAN PROVINCIAL:   Child Abuse
Gifts to Holy Innocents Church: Please consider remembering Holy Innocents Church in your will or estate. These gifts have a lasting impact on our parish.
PRAYERS:
The Dominican Rosary
Prayer to St. Michael the Archangel said after Mass
Prayer to the Virgin Mary for Protection
Spiritual Communion Prayer – said at live Mass