PARISH NEWS & UPCOMING EVENT
All Live Steam Services at Holy Innocents can be viewed by clicking on the Facebook link to the right.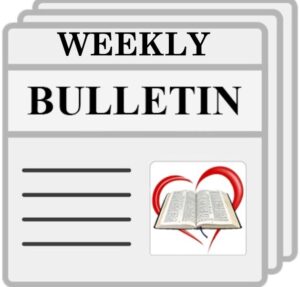 Click on the Weekly Bulletin to view the Mass Intentions, Readings and Parish Announcements. We would like to thank all of our weekly bulletin advertisers.  When you find yours
***In observance of Martin Luther King, Jr. Day, the Parish Office will be closed Monday, January 17th.
Mass Schedule: 8:00am Mass.  There will not be a 12:15pm Mass.***
LITURGY NOTES AND READINGS FOR THE FIRST SUNDAY OF ADVENT – January 16th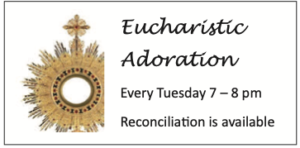 EUCHARISTIC ADORATION:  A BEGINNER'S GUIDE:  more information
FINANCE CORNER:  Regular:  January 2   $ 8,514
RELIGIOUS EDUCATIONS: The Religious Education program has been strongly encouraged by the Faith Formation Department of the Archdiocese to move from in-person classes to virtual or remote learning. We are adhering to that recommendation and will continue off-site instruction through Saturday January 22nd. The wonderful catechists in our program are creating alternate lesson plans, projects, and activities to keep the children engaged and learning during what we hope is a temporary pause. Their flexibility and willingness to adapt is greatly appreciated, they continue to be a blessing to our parish and program! We miss having the children in-person, but along with our pastor, Fr. Luke, are doing what is best for the safety of our children, catechists, volunteers, and all involved in Religious Education at Holy Innocents. The Religious Education program hopes to resume in-person beginning January 24, 2022, but will of course continue to follow the guidance received.
UPCOMING NEW & HAPPENINGS
–  FR. LEO'S "BOOK CLUB" Wednesdays at 5:15pm. Interested in reading some of the classics of Christian Literature?
The Book Club we've mentioned the past few weeks will be meeting on Wednesdays at 5:15pm in the Social Hall. All are welcome to join.
–  MASS FOR LIFE AND DAY OF PRAYER:  Friday, January 21st Day of Prayer for the Unborn Adoration of the Blessed Sacrament following the 12:15pm Mass, ending with Mass for Life at 7pm
–  Wednesday, February 2nd: Come to the church and light a candle. 7:30am-6pm. Candlemas at 6pm
–  "Winter Evenings of Recollection" Presented by Fr. Frank Sutman, O.P. has been cancelled
POPE FRANCIS' JANUARY PRAYER INTENTION:   For true human fraternity
We pray for all those suffering from religious discrimination and persecution; may their own rights and dignity be recognized, which originate from being brothers and sisters in human family.

ONLINE FAITH FORMATION PROGRAM:  You are invited to check out the FORMED site, which is like a "Netflix" of Catholic resources giving you 24/7 access to over 300 quality Catholic online programs, 99+ movies, 101+ audios, & 98+ E- Books. It's Free!  This week on the 22nd is a Day of Prayer for the Legal Protection of Unborn Children. Watch: Standing Up for Human Dignity, Protecting the Vulnerable Unborn, The Value of Life, Unplanned- Behind the Scenes, Why I Left Planned Parenthood: From Death to Life, or Changing Sides. Listen to: There is Life in the Womb, The New Conversation: Changing Hearts & Minds on Abortion, or Why I Left Planned Parenthood.
VOLUNTEER OPPORTUNITIES:
Holy Innocents Church Care Group: Get involved in caring for our church by cleaning and beautifying our parish space, keeping our facility looking its very best. We will meet on Saturdays twice monthly. Each participant may commit time according to their availability. All are welcome, ages 12 and up. (Yes, it can be a community service opportunity!)  Masks and distancing protocols will be followed. Contact Peggy DiCarlo (email: fredsgirls@hotmail.com or text: 914-450-9597) for more information.
The Holy Innocents Knitting Group:  meets the first Thursday of every month in the social hall conference room at 7:30 PM. No experience necessary: we are happy to teach you. We are working on several charity projects. For more information please contact Liz Dieter or Kathy Dunne.
PLEASE KEEP US INFORMED:  It is important that your information is up to date with the parish office. If your name, address, phone, or email has changed, email us. You can also stop by the Parish Office or call us at 914-769-0025 (M-F) and we will be happy to take your information changes.
BLOOD DRIVE:  The Emanuel Lutheran Church in Pleasantville is sponsoring a Community Blood Drive on Monday, January 31, 2022, from 1:00 pm to 7:00 pm at the church on 197 Manville Road, Pleasantville. More Info
YOUTH GROUP:  All Students in Grades 9-12 are welcome.  For information, please contact Julia DalCeredo.
•Jan. 23rd—Youth Group Meeting at 6:15pm
•Jan. 30th—JCCA Cottage School Visit at 3:00p
COLLECTION OF FOOD FOR THOSE IN NEED:  The Food Pantry is very grateful for all of your donations throughout this past year! The parishioners of Holy Innocents are extremely generous and have assisted many in need. Thank you! The Pantry will be closed until January 6th, so please do not bring any further donations until after that date.
JIGSAW PUZZLE SWAP:  Many people got through COVID lockdown by building jigsaw puzzles. If you have puzzles to swap, bring them to Mass on Sunday and leave them on the table in the parish hall. You're welcome to take any puzzles left there.
Parish E-mail Newsletter:  If you would like to receive future e-mails, please sign up under the "Contact Us" link on the top right of this page.
Please pray for the safety of our police officers, firefighters, all first responders and all health care workers, and for the safety of our men and women in the military, especially those who are serving overseas.
During this difficult time, the following resources are available:
Hallow  a prayer app that offers guided meditation sessions to help us grow in our faith & spiritual lives and find peace in God
Magnificat  a monthly publication to help follow the daily Mass can also be read at home or wherever you find yourself for personal or family prayer
POPE FRANCIS' MESSAGE:  Please take a few minutes and read Pope Francis's message to the city of Rome and the world.  It is simple, direct and beautiful.   Click Here for Pope Francis's Message
THE DOMINICAN ROSARY Glorious Mysteries:  click on arrow below to start Rosary; double click to enlarge
LETTER FROM OUR DOMINICAN PROVINCIAL:   Child Abuse
Gifts to Holy Innocents Church: Please consider remembering Holy Innocents Church in your will or estate. These gifts have a lasting impact on our parish.
PRAYERS:
The Dominican Rosary
Prayer to St. Michael the Archangel said after Mass
Prayer to the Virgin Mary for Protection
Spiritual Communion Prayer – said at live Mass