PARISH NEWS & UPCOMING EVENT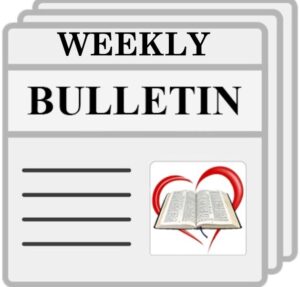 We have started publishing the bulletin again.  
To view all video services (live or at a later time) at Holy Innocents Church:  CLICK HERE

Live Mass:   Sunday 9:00 am
Live Holy Hour:  Tuesday 7:00 – 8:00 pm
Currently Holy Innocents Church is open for regularly scheduled weekday and Sunday Masses.
Holy Innocents is also open for silent prayer from 6:30 am to 6:00 pm Sunday through Saturday.
Our Lady of Pompeii Chapel is only open for Mass on Tuesdays at 5:30 pm (maximum 20 people).
FROM OUR PASTOR   November 26, 2020
Rejoice always.  Pray without ceasing.  In all circumstances give thanks.
This Thanksgiving we are invited to remember these great words of St. Paul which remind us that in all circumstances we have the privilege of offering gratitude to God. In my small personal experience I have found that nothing brings healing and peace to our hearts more aptly than remembering to say thank you to God.
On this day I also want to give thanks to each of you for what you bring to this parish. My new role here as pastor has given me a new perspective on our community and one of the primary things I now notice is how many moving parts there are, with so many individuals contributing to this great work in so many different ways. So again, thank you for all that you have brought and continue to bring to our parish.
Thank you also for all the kindness and support you have offered to me and my brethren in this last year. I am so grateful, as is Fr. Leo, Fr. Frank, and Fr. Greg. We are blessed to be here with you all and to get to serve you.
I also want to take this opportunity to say thanks for a few particular items:
Thank you to all who donated to the Renew & Rebuild Campaign. I hope you have had a chance to see our beautiful new front doors. That project is not completed but is already looking so well. (We are also continuing with further projects like the kitchen – stay tuned.)
Thank you to all who donated to the Cardinal's Appeal in the last year. We not only matched our goal, but exceeded our goal, which meant that a portion of those donations were forwarded directly back to our parish.
Thank you to all who have donated to the parish's outreach to those who are in need in our local area. (If you or someone you know is in need at this time, please let us know.)
Thank you to those of you who have answered my own recent invitations to assist with specific projects. Your generosity has made possible 1) a new WiFi system in the church to facilitate our live-streaming; 2) a new upgrade to our live-stream audio-visual equipment (which is a work-in-progress – we are almost there!); 3) our parish subscription to the resources of Formed.org.
We are now about to enter the season of Advent. I invite you to join us for our Advent Vigils which will be taking place in the church and over our Facebook page every Wednesday of Advent 7-8pm. I hope and pray that these times of music, preaching, and prayer will be opportunities for us to prepare our hearts for the coming of Christ at Christmas.
Have a happy Thanksgiving,
Fr. Luke
ADVENT SERVICES AND EVENTS:  Save The Dates
Advent Vigils:  Starting December 2nd and continuing each Wednesday of Advent at 7pm, we will have an hour of music, preaching, and prayer at Holy Innocents Church. All are welcome. Each "Advent Vigil" will also be live-streamed on our Facebook page.
Women's Advent Night:  Please join us on Thursday, December 10th (time TBD) for prayer and reflection "virtually" as we enter the Advent Season.  Speaker: Sr. Charity from Sisters of Life.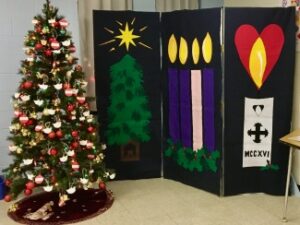 GIVING TREE:  The Giving Tree has gone virtual for Christmas 2020! All gifts will be distributed to families in need in the Highbridge Community in time for Christmas. Thank you for your continued support, especially with these different circumstances. If you want to participate but are concerned about social distancing while shopping, please make a gift card donation instead. Gift cards will enable a team of super shoppers to finish our list. If you sign out a traditional gift tag, do your shopping in store, curbside pickup, or online as suits you. We ask that wrapped gifts be returned to Holy Innocents drive-thru parking lot gift drop on Sunday, December 6, from noon to 4:30 p.m. Please attach a tag to your wrapped gift indicating the gender and age for your recipient. In addition to providing gifts, you can volunteer to be a super shopper, part of a small wrapping party, or one of the elves at the gift drop.     SIGN-UP HERE
HAPPY BIRTHDAY, Lil DiCarlo:  We extend our prayers, good wishes and congratulations to Lil DiCarlo who will celebrate her "100th Birthday" on Saturday, December 5th!
RELIGIOUS EDUCATION: Mrs. Moran's 8th Graders have decided to participate in the annual Toy Drive for the Open Door Medical Center in Mount Kisco as one of their Confirmation service projects.  The students worked with local retailers and asked permission to place a collection box in their spaces. Each student will monitor a box, wrap the gifts collected and then drop them to Open Door.
If you are able to donate a new, unwrapped toy, book, games or dolls (newborn to 13 years), please drop off at the following locations:  The Black Cow, Key Food, Lucio's Pizza, Pleasantville High School, Pleasantville Middle School, Pleasantville Pharmacy, The Village Bookstore
For those of you who are not comfortable going to a public place, the following residences are also drop off locations: 31 Leland Avenue and 87 Bedford Road
The deadline is December 11, 2020 and we thank you for your generosity!

Online Faith Formation Program (Informed):  You are invited to check out the FORMED site, which is like a "Netflix" of Catholic resources giving you 24/7 access to over 300 quality Catholic online programs, 99+ movies, 101+ audios, & 98+ E- Books. It's Free!  Follow these steps to access the subscription:  1. go to Formed   2. select "Sign Up"   3. select "Sign up as a parishioner"  4. enter "Holy Innocents Church 431 Bedford Rd. Pleasantville 5. enter your name and email address   6.  start watching! Today is the First Sunday of Advent. Watch: Advent, Opening the Word- First Sunday in Advent, Formed Daily-Advent, or Prepare the Way with Bob Rice. Listen to: Prepare the Way of the King, Holiness is Always in Season, or Advent: Rethinking the Season. Children can watch Brother Francis- The Days of Advent.
CYO NEWS:  Let's keep the Friar's Basketball Spirit Going! Please help us support our parish, our CYO Program and do our part to shop small with LaurLee Sports. Check out our online store.

COMMUNION CALLS
If you would like to receive Holy Communion in your home, please let us know by sending an email to Fr. Leo Camurati. He is happy to be in touch with you about coordinating regular visits.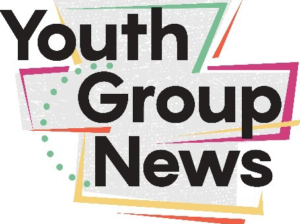 Meetings: The Youth Group meets every 2nd and 4th Sunday of the month. Depending on factors of weather and pandemic safety, the meetings vary between in-person in the church parking lot (at the corner to Manville and Tompkins) and virtual over zoom. Please email Fr. Luke if your high-schooler would like to participate in the youth group and if you would like to receive youth group communications about meetings, service projects, and recreation events.
Youth Mass: Every 1st Sunday of the month @ the 5:15pm Sunday Mass

Please pray for the safety of our men and women in the military, especially those who are serving overseas; police officers, firefighters, all first responders and all health care workers.

Holy Innocents Weekly Email
If you would like to receive this weekly email, please click here to send your request.
During this difficult time, the following resources are available:
Hallow  a prayer app that offers guided meditation sessions to help us grow in our faith & spiritual lives and find peace in God
Magnificat  a monthly publication to help follow the daily Mass can also be read at home or wherever you find yourself for personal or family prayer
POPE FRANCIS' MESSAGE:  Please take a few minutes and read Pope Francis's message to the city of Rome and the world.  It is simple, direct and beautiful.   Click Here for Pope Francis's Message
THE DOMINICAN ROSARY Glorious Mysteries:  click on arrow below to start Rosary; double click to enlarge
COLLECTION OF FOOD FOR THOSE IN NEED:  We continue to collect non perishable food items for those in need. Please drop them off in the front of Church or at the side door. People request help with food every day. Thank you. 
LETTER FROM OUR DOMINICAN PROVINCIAL:   Child Abuse
CHRISTMAS "KNIGHTS" TOY DRIVE:  The Knights of Columbus St. Dominic Council is hosting a Christmas toy drive for children 18 years and younger in the Mount Pleasant Community. We are requesting toys be donated that will be sorted and distributed to families in Mount Pleasant. Donations are gratefully accepted and some suggestions are below. Donations should be NEW ITEMS.
Legos/Building Blocks, Board Games, Musical toys, Toy cars and trucks, Dolls and doll clothes, Doll carriage, Arts and craft kits, Playdough/Clay/Paint Sets, Dinosaur Figures/Action Figures, Science Kits, Small purses for girls, Coloring Books, Books/Puzzles
Toys can be dropped of on Thursday, December 3, 5:00pm – 9:00pm or Saturday, December 5, from 9:00am to 1:00pm at St. Dominic Council, 874 Franklin Ave, Thornwood, NY 10594.  Any questions please contact: Grand Knight Mike DeFlorio  Thank You For Your Generosity, Merry Christmas
Parish E-mail Newsletter:  If you would like to receive future e-mails, please sign up under the "Contact Us" link on the top right of this page.
Gifts to Holy Innocents Church: Please consider remembering Holy Innocents Church in your will or estate. These gifts have a lasting impact on our parish.
PRAYERS:
The Dominican Rosary
Prayer to St. Michael the Archangel said after Mass
Prayer to the Virgin Mary for Protection
Spiritual Communion Prayer – said at live Mass