The Catholic Faith is rooted in the belief that God made us to enjoy eternal life with Him and that death is not the end of our existence. The cemetery is sacred ground consecrated by the church to provide a dignified final resting place that affirms the faith of the departed, reflects our core belief in the Resurrection of Jesus Christ and the promise of eternal life with Him.
In the stillness of the cemetery, may you connect with that great prayer of the early Church, "Maranatha!" "Lord Jesus, come!"
Contact Barbara Mackin, Cemetery Manager, for more information at 914-769-0025, ext. 22.
Plots and Niches available for sale.
Click here for the Pricing of Plots and Niches.
Update for the safety of all, please observe the following when visiting All Souls Cemetery:
The cemetery is open from dawn to dusk.
Clean up is ongoing, please do not leave personal items at graves.
All unauthorized items will be discarded including rocks, glow lights, memorabilia, and anything artificial.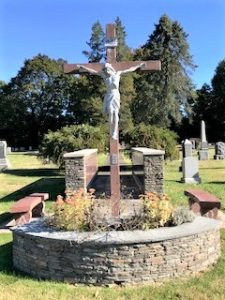 All Souls Cemetery is located on Marble Avenue in Pleasantville and is operated by Holy Innocents Parish. If you would like to inquire about purchasing a burial site at All Souls Cemetery please call the parish office at 914-769-0025 x22.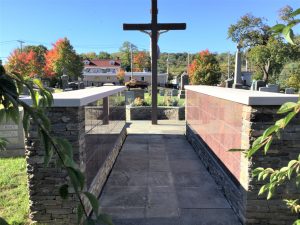 All Souls Cemetery is pleased of offer above ground inurment with the opening of "The Holy Innocents Columbarium" in November 2016. Each companion niche accommodates 2 urns.
Click Here for the Rules and Regulations at All Souls Cemetery.
WE CANNOT GUARANTEE DECORATIONS FROM DAMAGE OR DISAPPEARANCE.