All Souls Cemetery
Update for the safety of all, please observe the following when visiting All Souls Cemetery:
Visitors must wear face masks and observe social distancing
Limit gatherings to 10 people
The cemetery is open dusk to dawn.
Clean up is ongoing, please do not leave personal items at graves.
All unauthorized items will be discarded including rocks, glow lights, memorabilia, and anything artificial.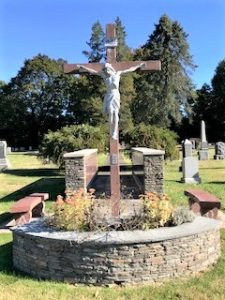 All Souls Cemetery is located on Marble Avenue in Pleasantville and is operated by Holy Innocents Parish. If you would like to inquire about purchasing a burial site at All Souls Cemetery please call the parish office at 914-769-0025.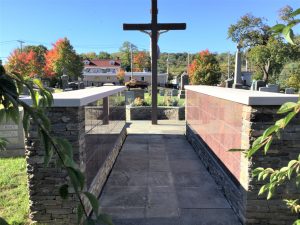 All Souls Cemetery is pleased of offer above ground inurment with the opening of "The Holy Innocents Columbarium" in November 2016. Each companion niche accommodates 2 urns.
The following is a list of permitted and prohibited grave plantings at All Souls Cemetery:
Flowers may be planted in a space equal to the length of the grave marker and extending outward 12 inches.  If there is no marker, the length of the planting may not exceed two thirds the width of the grave and must stay within a 12 inch depth.
Ornamental shrubs and trees man not be planted at the grave site.  Memorials in the form of trees and shrubs will be made available by the cemetery board.  The cemetery board will decide plant type, size and location.
All unauthorized plantings will be removed.
The use of artificial materials is prohibited.
Grave borders of any kind are prohibited and will be removed.  The application of crushed stone is also prohibited.
Artificial plants, flowers, wreaths and designs; as well as all other decorative and devotional objects are not allowed.
Potted plants are permitted to be placed directly in front and center of the grave marker 7 DAYS PRIOR TO, BUT WILL BE REMOVED IMMEDIATELY AFTER THE EIGHTH DAY, ON THE FOLLOWING LIST OF DAYS:

Easter Sunday
Father's Day
All Saints Day
Mother's Day
Memorial Day
All Souls Day
Thanksgiving Day
Christmas Day
Anniversary Day

Christmas wreaths must be hung from the grave marker and not placed on the ground.
Palm crosses must be removed by Wednesday of Holy Week.
Deteriorating flags may be disposed of in the American Legion "flag mailbox" on Garrigan Avenue for proper disposal ceremonies.
WE CANNOT GUARANTEE DECORATIONS FROM DAMAGE OR DISAPPEARANCE.
Plots and Niches are available for sale.