11/28/2021: This weekend we celebrate the First Sunday of Advent! Advent means "arrival" or "coming." It is a season of expectation and hope. Believers across the world spend the weeks before Christmas preparing for that day of beauty and light.  The first recorded mention of Advent occurred at a meeting of church leaders in Spain in the 300's A.D. The Council of Saragossa encouraged people to attend church daily between December 17-29.  The Advent wreath will be placed on the altar and each week we will light a different candle. The first candle is purple and is called the Prophet's Candle and symbolizes Hope. The prophets of the Old Testament, especially Isaiah, waited in hope for the Messiah's arrival.
11/21/2021:  The Religious Education program wishes all a very Happy Thanksgiving! There are no classes this week, Monday, November 22nd through November 27. Enjoy the time away with your families and be thankful for all you have!
Child's Thanksgiving Prayer
Thank you God for all that grows,
Thank you for the sky's rainbows,
Thank you for the stars that shine,
Thank you for these friends of mine,
Thank you for the moon and sun,
Thank you God for all you've done!
"Give thanks to the Lord, for He is good; His love endures forever." 1 Chronicles 16:34
11/14/2021: On November 13, the universal church honors an Italian missionary who spent most of her life working in the United States. St. Frances Cabrini was born in Lombardy, Italy. She was one of 13 children and from a young age longed to be a missionary in China. God had other plans for her!  At age 18 she joined the Sisters of the Sacred Heart and took on the name "Xavier" in honor of St. Francis Xavier, the great missionary to the Orient. Pope Leo XIII told her to look West and not East, and she accepted the invitation of the Archbishop of New York to come to America.  Mother Cabrini had a deathly fear of water and drowning but overcame that fear to cross the Atlantic Ocean more than 30 times in service of the Church and the people who needed her. She became a naturalized citizen of the United States and in 1946 became the first American citizen to be canonized.  Her deep trust in God plus her administrative ability helped her to found convents, schools, hospitals and orphanages in early America predominantly serving Italian immigrants and children. Mother Cabrini died in Chicago in 1917. There is a National Shrine dedicated to her in Chicago and there is also a shrine dedicated to Mother Cabrini in upper Manhattan.  St. Francis Cabrini is the patron of immigrants.
11/7/2021:  In today's First Reading we hear about a widow who was asked to give away all the food she had. In the Gospel Jesus points out a woman who put all her money into the Temple treasury. It is pleasing to God when He sees us sharing what we have with the poor and the church. Do you think he wants us to give everything we have away? Everything we have comes from God and He wants us to use it well. When we do this, it is known as being a good steward. It means using what we need for ourselves but making sure that we always give to the Church and those in need. These past two weeks, Fr. Leo and Fr. Luke shared their time and talent with the Sixth and Seventh Grade students by spending time with them and blessing the bibles they received. They took time to speak to us about the importance of reading the bible and turning to God's word at various times in their lives. We are fortunate to have benefitted by their stewardship. How can you be good stewards?
10/31/21:  On October 16, 2002, the date that marked the 24th anniversary of John Paul II's papal election, Pope John Paul II published an apostolic letter in which he proposed five new mysteries of the Rosary. In the letter he reminds us that October is the month devoted to the Rosary, which is a traditional prayer and a means of praying to Jesus through and with his mother, Mary. Pope John Paul II created the Luminous mysteries that focus on the public life of Jesus as mysteries of light. Jesus is the light of the world and this truth emerges during His public life as He preaches and proclaims the Gospel of the Kingdom. He also proposed the new mysteries as a petition for world peace and stronger family life. The Luminous Mysteries are prayed on Thursdays. The five luminous mysteries are: the Baptism of our Lord Jesus Christ in the Jordan, the Revelation of our Lord at the Wedding of Cana, the Proclamation of our Lord Jesus of the Kingdom of God with His Call for our Conversion, thevTransfiguration of our Lord Jesus Christ, and the Institution of the Eucharist. Pope John Paul II was always devoted to the Rosary. He encouraged faithful Catholics to use this traditional prayer as a complement to liturgical life and mass attendance. Praying the Rosary encourages private devotion and a quiet encounter with Christ.
10/24/21: The month of October is traditionally celebrated as the month of the Rosary. The Rosary is one of the most cherished prayers of our Catholic Church. It begins with the Creed, the Our Father, three Hail Marys, the Glory Be, and concludes with the Salve Regina.
Between the 12th and 15th centuries, the recitation of fifty Hail Marys linked with the events in the lives of Jesus and Mary became known as the rosarium or "rose garden". Blessed Alan de la Roche wrote that every time people say the Rosary devoutly, they place on the heads of Jesus and Mary 153 white roses and sixteen red roses. Being heavenly flowers, these roses will never fade or lose their beauty.
The Glorious mysteries are prayed on Wednesdays and Sundays. These mysteries reflect on the events that depict God's true power and glory. The first three Glorious mysteries are The Resurrection, when the apostles thought all was lost, Jesus conquers death, and is again with them, the Ascension into Heaven, when He returns home to His Father, and the Descent of the Holy Spirit. The fourth and fifth mysteries are focused on Mary, The Assumption of Mary into Heaven, and her Coronation as Queen of Heaven. The Glorious mysteries show us the mission of Jesus fulfilled in Mary. Jesus did not come to earth only to return to Heaven, He came down for us, to draw us to Him, and take us to heaven with Him. What Jesus does for Mary; He desires to do for all of us. She is our model, and where we all hope to be, by her Divine Son's side.
We will learn about the Luminous mysteries next week!
10/17/2021:  The month of October is traditionally celebrated as the month of the Rosary. The Rosary is divided into five groups of ten beads called decades. Catholics were not the first to pray with beads. Men and women of many faiths and cultures including Hindus, Greeks, and Buddhists, have and do use beads to pray. The word bead in English is actually derived from an Old English word that means prayer. The use of prayer beads almost universally is to allow the person to keep track of the number of prayers being said.
As we pray the Rosary, the repetition of the prayers assists in prayerful meditation. We reflect on the specific events in the lives of Jesus and Mary to deepen our relationship with them and understand God's love for us.
The Sorrowful mysteries are prayed on Tuesdays and Fridays and on Sundays during Lent. These are the saddest events in Mary's life, and in praying them we learn from her example that even in the darkest days of our lives, God is with us and hears our prayers. They are The Agony in the Garden, when Jesus is betrayed by Judas, bound and led away, The Scourging at the Pillar, Jesus is cruelly beaten, The Crowning of Thorns, a crown is placed on Jesus' head mocking Him, and causing pain as the thorns press into His scalp, The Carrying of the Cross, Jesus is condemned to death on a wooden cross, and the Crucifixion.  We will learn about the Glorious mysteries next week!
10/10/2021: The month of October is traditionally celebrated as the month of the rosary. This may be due to the fact that October 7th is the Feast of Our Lady of the Rosary. You may have noticed the presence of the Rosary in all of our Religious Education classrooms to honor the Blessed Mother and acknowledge the Catholic tradition of praying the Rosary. The word Rosary comes from Latin and means garland of roses. The rose is one of the flowers used to symbolize the Virgin Mary.
There were originally three sets of mysteries of the Rosary and in 2002, almost 600 years after the original mysteries of the rosary were established, Pope John Paul II added a new set of mysteries. The four mysteries are the Joyful, the Sorrowful, the Glorious, and the newly added Luminous. Each with a unique quality and leading those that pray to ponder the very specific events in the lives of Jesus and Mary and the lessons they hold for our own lives today. We ask the Blessed Mother to bring our prayers to her divine son.
The Joyful mysteries are prayed on Mondays and Saturdays. These are the events in Mary's life that help us reflect on her life and relationship with God. They are: The Annunciation when the Angel Gabriel announces to Mary that she will be the mother of our Savior, the Visitation when Mary visits her cousin Elizabeth, the Birth of Jesus, The Presentation, when Mary and Joseph bring Jesus to the temple, and the Finding of Jesus in the Temple, Mary and Joseph thought Jesus was lost, but they found Him and rejoiced.
We will learn about the Sorrowful mysteries next week!
10/3/2021: On Saturday, October 2nd we celebrate the Feast day of the Guardian angels. The word angel means "messenger" and in many scripture accounts, the angels serve as God's messengers. The archangels are angels of the highest order, and there are three named in Scripture – Michael, Gabriel and Raphael.
Angels also serve to protect and serve the faithful. At Mass we join the angels in the invocation, "Holy, Holy, Holy, Lord God of Hosts." Angels are members of the Body of Christ along with the saints, and all believers, living and dead.
The feast was first celebrated in the 16th century.
The Guardian Angel Prayer:  Angel of God, my guardian dear, to whom God's love commits me here, ever this day, be at my side, to light, to guard, to rule and guide. Amen.
9/26/2021:  The Religious Education program is looking forward to welcoming our students back to in-person instruction beginning tomorrow, Monday, September 27th!  We have been busy preparing the classrooms and Religious Education space for their arrival and are
committed to keeping everyone safe! Thank you to all our parents, who have received the guidelines and procedures and will be working with
us this year on our modified drop-off and pick-up procedures. Thank you to our catechists for their dedication to teaching our faith. Thank you to all the volunteers who will be working to screen the children, to guide the children to classes and monitor our space for safety.
If you have not registered your child, please contact the Religious Education office. Due to the Archdiocesan guidelines, our per class capacity is limited, but we will do our best to find a place for your child. Contact the Religious Ed Department at religious.ed@hiparish.org if you need to register. We ask our wonderful parishioners to pray for our children, and all those involved in Religious Education at Holy Innocents this year. Pray that God keeps everyone safe, blesses our efforts to spread His word and teach and inspire the next generation of Catholics!
9/19/2021: Today is Catechetical Sunday! Each year, the Catholic Church in the United States designates the third Sunday in September as a day on which to celebrate and pray for those who respond to the call to share the gift of faith. They work for the Church's mission to teach the Gospel to all people. Each of us by virtue of our baptism plays a role in handing on the faith and being a witness to the Gospel. This day is a wonderful opportunity for our parish community to pray for those within our parish who have chosen to serve as catechists, and celebrate with them as they are commissioned for their ministry. The theme this year is: "Say the Word and My Soul Shall be Healed." The Religious Education program is grateful to all of our catechists who are responding to the call to share the gift of their faith with the children of our parish. We are blessed to welcome many new catechists this year, as well as those who continue to serve and through their dedication have made the program a success. We pray that God grants you the grace to serve in your vocation as a catechist, and that your own faith is deepened as you teach, guide and inspire the next generation of Catholics! Thank you for answering God's call.
9/12/2021: In today's second reading, Saint James tells us that we cannot just say that we have faith. We need to show it by what we do.
Do you know what God wants you to do? He wants you to obey His commandments. That means He wants you to listen to your parents and teachers, and not steal or lie or be mean to others. You can also show your faith by doing good works, like sharing, being nice to other people, and helping your parents. Being a follower of Jesus means believing in Him, and also doing what He wants us to do. Think of some kind things you can do for someone, and show that you believe in Jesus!
9/5/2021:  We are happy to announce that Religious Education at Holy Innocents will be in-person for the school year 2021-2022. To keep our children, catechists and volunteers safe, Holy Innocents has and will be implementing the following:
Our HVAC system has received new MERV filters.
–  New air purifiers have been installed in every classroom.
–  All will be required to wear masks.
–  The classrooms that will be used for instruction will be reset to allow for social distancing.
–  There will be no food or eating allowed in the classrooms.
–  The classrooms will be cleaned in between all sessions.
We will continue to pay close attention to protocols, Archdiocesan guidelines, and adapt as necessary to prepare for the beginning of this catechetical year.
The Religious Education Video Series:
Our Church: Learning about Holy Innocents with Fr. Greg Doherty.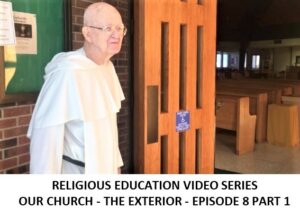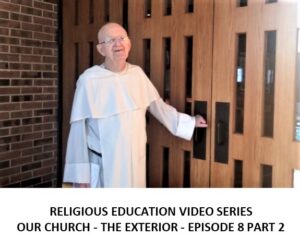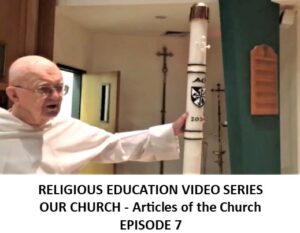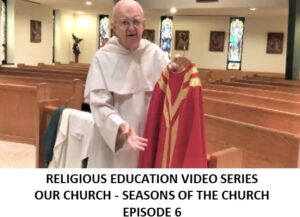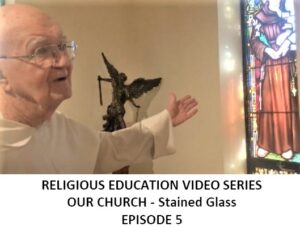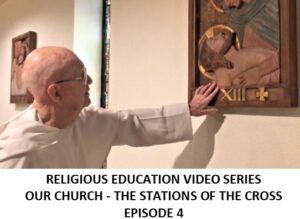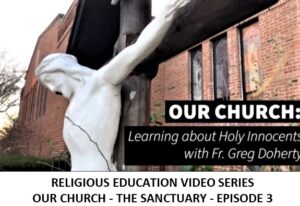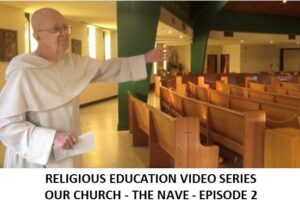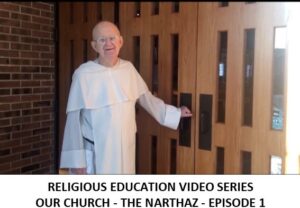 8/29/2021: Saint Spotlight – St. Gregory the Great:  On Friday, September 3rd, we celebrate the feast day of St. Gregory the Great. He was born into a wealthy family and was well educated and excelled in his studies becoming an expert in the law. Pope Gregory was famous for the emphasis he put on missionary work. He sent many people out to spread the gospel and bring people into the Church. He referred to himself as a servant of God, and to this day many clergy refer to themselves as servants. Pope Gregory made many changes to the Mass, some of which remain today, For example, the position of the Our Father in the Mass remains where Pope Gregory placed it. Pope Saint Gregory is also known as one of the earliest musicians of the church. Gregorian Chant is named for him. Gregorian chant gives us the oldest music we still have in the original form, some dating to the centuries just after the death of Gregory. The church honors St. Gregory the Great as a patron of musicians and singers. We wish a happy feast day to the great friend of Religious Education, Fr. Gregory Doherty, O.P., serving our parish.
8/22/2021:  We happily welcome Roseann Graj as the new assistant for Religious Education at Holy Innocents. Roseann has been a catechist in the program for 30 years and served under many directors and pastors! She will provide much needed assistance as the program returns to in-person instruction in September. In addition to her catechetical experience, Roseann brings a deep faith, creativity and positive spirit to the program and the many activities that we hope to provide in the coming year. Thank you Roseann for your continued dedication and for taking on this new role in service to the children and our parish!
8/15/2021:  August 15 is the Feast of the Assumption. It is a holy day of obligation for Catholics, but today since it falls on a Sunday we celebrate it as our weekend liturgy. When our Blessed Mother's life on earth was done, she was assumed, meaning taken to heaven body
and soul, to be with God. Our Blessed Mother was kept free from original sin so that she could be the perfect mother for Jesus. At the Annunciation, when the angel Gabriel brought Mary the message that God wanted her to be His mother, she gave herself totally to God. All
through her life, even when He died on the cross, she did everything for Jesus. God decided that instead of being buried like everyone else, His holy mother should come, body and soul into Heaven. We celebrate that in today's feast! When we pray the Glorious Mysteries of the rosary, we meditate on the Assumption as the fourth decade. This decade of the rosary helps us pray for devotion to Mary and the grace of a happy death.
8/8/2021:  Saint Spotlight:  The Religious Education program joins with the parish in celebrating the feast of St. Dominic this weekend.
St. Dominic was born in Spain, the youngest of four children. He became a priest and joined a religious community. He traveled with his bishop to Northern Europe in 1204, and Dominic saw that many people were following heretics, or false teachers. Dominic, his bishop and three monks went from city to city teaching the truth of Christ, using the Bible. They went on foot, depending on others for food and a place to sleep. People returned to the faith through their efforts, not only because of what these preachers said, but because of how they lived! Dominic realized that to be true witnesses of the Gospel, preachers could not be wealthy. Truth was Dominic's motto and his goal.
In 1216, Dominic founded the Order of Preachers, (O.P.) and urged his members to study and to pray so they would be ready to preach. The priests that serve Holy Innocents belong to this Religious Order also known as Dominicans. History reveals that St. Dominic was the first to preach and teach the rosary as a form of meditative prayer. In 1208 he prayed asking God to provide what he needed to overcome the heretics. After three days of fasting and prayer, the Virgin Mary appeared to Dominic and told him that he must preach the rosary to
succeed in his struggle. Mary revealed to St. Dominic which mysteries should be preached focusing on the incarnation, death, and triumphant resurrection of Jesus. He successfully overcame the heretics and was the first to see the benefits of this meditative form of prayer. His followers deeply love the Blessed Virgin Mary and spread devotion to her through the rosary. The beautiful rose window in our church portrays the scene of St. Dominic receiving the rosary from our Blessed Mother. Dominic was able to draw the members of this community together and inspire them to love and forgive one another. He was outstanding for his love of truth, his clear thought, his organizing ability, and his sensitive, loving nature. For Dominic, love for people was part of his love for God.
Happy Feast Day to Fr. Luke Hoyt, O.P., Fr. Leo Camurati, O.P., Fr. Greg Doherty, O.P., and Fr. Frank Sutman, O.P., we are blessed by your service to our parish!
8/1/2021:  Saint Spotlight: Today, August 1 is the feast day of St. Alphonsus Liguori, sometimes called AlphonsusMaria de Liguori. He was an Italian Catholic Bishop, spiritual writer, composer, musician, artist, poet, lawyer, philosopher, and theologian. He is the patron saint of confessors. He founded the Congregation of the Most Holy Redeemer, known as the Redemptorists in 1732. He published nine editions of his Moral Theology in his lifetime, in addition to other devotional and ascetic works and letters. Among his best-known works is The Way of the Cross, used to lead and participate in the Stations of the Cross during Lent. Alphonsus was canonized in 1839 and proclaimed a Doctor of the church by Pope Pius IX in 1871. He is one of the most widely read Catholic authors. As an ardent lover of souls, St. Alphonsus Liguori felt that priests must exude the love and mercy of the Sacred Heart in their person. He lived in a time when Confession had fallen by the wayside for far too many Catholics, including some priests, St. Alphonsus showed by example how much we need God's love and mercy in this Sacrament. His belief was that spiritual fathers should always seek to draw sinners back to God. This means a much-needed return to the balance between sound moral theology and mercy and a renewed effort to draw the faithful to regular reception of the Sacrament of Reconciliation. St. Alphonsus was also a composer! His best-known musical work is the song written for Christmas, Quanno Nascetti Ninno, translated into Italian by Pope Pius IX as Tu scendi dalle stelle, in English, From Starry Skies Thou Comest. It was written in 1732 in the musical style of pastorale which is traditionally associated with the zampogna, or Italian bagpipe. This hymn is beloved in Italy at Christmastime.
7/25/21:  Each year on July 26th we celebrate the feast of Saints Anne and Joachim, the parents of our Blessed Mother and grandparents of Jesus. There are no mentions of them in the bible or in the gospels, so what we know of them comes from Tradition. Joachim and Anne were good, faithful parents who raised their daughter Mary with a love and devotion to God like none other except Jesus Christ Himself. This feast reminds us to be grateful for our parents and grandparents! Each generation has a  responsibility to make the traditions live for the next, and younger generations are reminded that older people have a great perspective and depth of  experience of life's joys and trials. Joachim and Anne serve as role models for parents, and both deserve to be honored and emulated for their devotion to God and Our Lady Mary, the Mother of God. They looked forward to the next generation even while retaining the best of the past. Happy feast day to all parents and  grandparents and all those named Ann, Anna, Anne, and Joachim!
7/18/21:  In 2011, Pope Benedict XVI, stated in a letter to Catholic bishops that the faith of all Catholics is strengthened when they see the good that is being done in the name of Christ. Volunteer work is not merely an expression of good will, it is based on a personal experience of Christ. He was the first to serve humanity, he freely gave his life for the good of all.
The Religious Education program has proudly awarded the 2021 Volunteer Service Award to Lynn Cappa. Lynn has worked as a volunteer assistant for Josephine Cardone for all four years of her High School career and has been a huge help to the success of the class. Especially in this past virtual year, Lynn was the ZOOM monitor which allowed us to comply with the virtual safety and protection guidelines for on-line classes. She has modeled Christian service and is a visible instrument of God's love for all, especially the children in our program.
Lynn will attend Mercy College in Dobbs Ferry in the Fall.
We are very grateful to Lynn for her service, and we wish her the very best on her new endeavors! Congratulations!
"As each has received a gift, use it to serve one another, as good stewards of God's varied grace" 1 Peter 4:10
7/11/2021:  The Religious Education program extends a heartfelt thank you to Tammy Guastella for her years of service to the parish. Tammy has been instrumental in the success of the program and has worked with the directors, catechists, parents, and parish staff to insure the children of Holy Innocents receive excellent instruction in our program. Thank you, Tammy, and all the best in your future endeavors.
We welcome Maria Gallo, who will work as the Assistant Director of Religious Education. Maria has experience in faith formation programs, pastoral care, safe environment, and curriculum planning. Among the many talents and gifts Maria brings to our program, she is fluent in Italian and Spanish. Welcome Maria!
7/4/2021:  Summer is here!  The Religious Education Program wishes everyone a safe and happy July 4th holiday! I pray that you have a safe and spirit-filled summer vacation. Keep Jesus with you in all that you do, as you unwind and try to turn off all the distractions of work and school, do not turn off your friendship with, and faith in Him.   Here are some things you can continue after your day at the beach, camp, the pool or family time.
The way you plan your trip to the beach, plan what mass you will attend, Saturday evening or Sunday Mass.  As you visit new places, and meet new people, see Jesus in the faces.  Keep the faith filled discussions going.  Review the prayers you learned over the year.
Say a prayer before a meal, and before you close your eyes to sleep after a day of fun.  If you do go away, there are several websites that will help you plan ahead and find the nearest Catholic Church to the place you are visiting:
Mass Times for Travel 
Parishes Online
The Catholic Directory
Catholic Mass Times
You will find all are easy to navigate and you can quickly find a mass by entering the city, state or zip code.
6/27/2021:  This Tuesday, June 29th, we celebrate two leading saints of the early church, Saints Peter and Paul. The feast of these saints is a celebration that honors their martyrdom in Rome. Most of the apostles and lots of saints have their own feast day, but how about the two most famous saints of the early church? There is February 22nd in which the Church celebrates the "Chair of Peter" the sign that Peter was the first among the apostles and the one designated to lead the early Church after Jesus' Resurrection and Ascension. The painting by Paul Rubens shows Peter with the "Keys" and wearing the pallium of the office of Bishop, but there is no Feast of St. Peter. St. Paul, although not one of the Twelve, was an Apostle commissioned by Jesus. There is the January 25th celebration of "The Conversion of St. Paul" which commemorates the Damascus Road episode described in Acts of the Apostles: 9:1-31, 22:1-22, and 26:9-24. It is the scene made famous by the "Conversion on the Way to Damascus" painting by Caravaggio, but there is no Feast of St. Paul. The joint celebration of these two great apostles has its roots in the very foundation of the Church. The date is of ancient origin, and it is not clear if this date was selected because it is the day they died, or the date of the translation of their relics. We honor them because they are the solid rock on which the Church is built. They are at the origin of our faith and will forever remain the protectors and guides of the Church. Under God's providential wisdom they were led to make Rome, sanctified by their martyrdom, the center of the Christian world where the preaching of the Gospel would spread and radiate throughout the world.
6/20/2021:  The Religious Education program congratulates Henry Slocum who received his First Holy Communion last week at the 9:00AM Mass. All those in attendance in person and on our livestream were able to witness and celebrate this very special day in Henry's life.  We join with your family and friends in praying that this is the first of many, and that you will remain as close to Jesus throughout your life as you are this day. Congratulations Henry!  Today we celebrate Father's Day and wish all the fathers, uncles, and grandfathers of our students and in our parish a very happy day!
6/13/2021:  One of the most loved and popular saints of our faith is Saint Anthony of Padua and June 13th is his feast day. He was born into a wealthy family and was raised in the church. In 1220 he joined the Franciscan order and won great admiration as a preacher. He was noted for his simple yet profound teaching of the Catholic faith. News of his eloquence reached Francis of Assisi, and Saint Francis entrusted Anthony with teaching his friars. Saint Anthony had a book of psalms with notes and comments to help him with his teaching, and one of his students stole his book. Saint Anthony prayed that his book would be found or returned to him, and it was. This is the reason he is commonly referred to as the "finder of lost articles." Pictures of Saint Anthony usually show him with a book and the Infant Child Jesus. Holy Innocents has a beautiful stained glass window depicting Saint Anthony, see if you can find it!
6/6/2021: Registration for the 2021-2022 year has begun! The information for registering is on the parish website. We have also enabled on-line payment via WeShare.  All classes will be in-person.  First Grade through Fifth Grade will be offered Monday through Thursday. Sixth Grade will be on Monday evenings, Seventh Grade on Tuesday evenings, and Eighth Grade on Wednesday evenings.  Registration will continue through August 31st. The registration form can be emailed to Religious Education or mailed to the Parish office.  Feel free to email us with any questions.  `Thank you!
5/16/2021:  We are happy to announce that in this unusual year we have completed a successful year of Religious Education at Holy Innocents! It could not have been possible without the care and support of our pastor, Fr. Luke Hoyt, O.P. who was willing to charter the untested waters of going virtual! Our parents, the first teachers are also to be acknowledged and congratulated for working with us throughout the year. Thank you for your patience as we progressed through the year, and the dedication you showed to your children to learn
the ways of our faith and your support to our program. The largest, heartfelt thanks to our thirty-five catechists who made the journey interesting and fun for the students. They designed new creative assignments, hand-delivered projects, and materials, and utilized ZOOM, and whatever methods worked with their students to keep them engaged and learning! Thank you all! We are working to be back in person in the Fall. Stay tuned for information regarding 2021/2022 registration.
5/9/2021:  The Religious Education program congratulates all our First Holy Communicants.  List of 1st Communion  You worked hard throughout this difficult year to receive Jesus for the first time, and we are so happy to celebrate with you! We especially thank the parents who are the primary educators of the children in the ways of the faith, and who will continue to assist them in their future growth in faith through their prayers and actions.  A heartfelt thank you to our Second-Grade catechists, Mrs. Josephine Cardone, Mrs. Alice Fortino, Mrs. Kasey King-Petrellese and Mrs. Kathleen Trudo for their dedication to preparing our children for this special day!  Thank you to Fr. Luke, Fr. Leo, and Fr. Greg for making the liturgies so beautiful and meaningful for these special days, and we also thank Roseann Graj for planning the special logistics to keep everyone safe.
5/2/21:  Mrs. Raefski's Confirmation students asked for your assistance with one of their service projects – to create Easter bags for the children at Mercy Center.  So many of you donated and were very generous. Religious Education program thanks you for your support and we wanted to share the response from the Mercy Center.
"I just wanted to thank you and all of the students and families who helped to bring such big smiles to our children – you had to see their faces when they saw the beautiful bags – WITH THEIR NAMES ON THEM! They loved them! I couldn't get all of their pictures, but I did get quite a few!  We all know how challenging this year has been – thank you for bringing such love and joy to our children! When I told them the story of how you made them all especially for each of them they honestly couldn't believe it!  One of our parents and one of her children were assaulted this weekend, so it is so good for our children to see that there is goodness in this world – thank you for being that GOODNESS!   May God continue to bless you and protect you always, Marianne"
4/25/21:  The Religious Education program thanks all of the parishioners who generously contributed to Mrs. Keating's eighth grade service project to provide donations to the Food Pantry run by the Franciscan Sisters of the Renewal in Harlem.  Sr. Elizabeth wrote to us and expressed her gratitude and assured us of their prayers for our parish and all the Confirmation students.  She especially relayed a story of their UPS driver who was overwhelmed and could barely keep up with the constant deliveries to their convent. One day they received 22 packages! Sr. Elizabeth explained the reason and the project and he was touched and moved by your witness of faith and your good will toward the poor. Thank you for your generosity! We never know who will be touched by our actions.
4/18/21:  This weekend's readings speak of the breaking of the bread. Jesus broke bread during the Last Supper and gave it to His disciples, and that act is remembered at each Eucharistic celebration.  His words "This is my body given for you; do this in remembrance of me."  The early Christians came together regularly for common meals, which included bread and that sharing was part of their fellowship. We still come together at mass and remember Jesus's sacrifice on the cross and share His body and blood during Communion. During this weekend, as you hear the words, and receive the Eucharist, say a special prayer for our Second graders who will partake in the Eucharist for the first time in May.
4/11/21:  The Religious Education Department  wants to thank Fr. Greg Doherty for making the video series Our Church: Learning About Holy Innocents possible. When presented with the concept and idea, Fr. Doherty willingly accepted the role of host and presenter.  Fr. Doherty did his homework, researching the history of our parish, and all the aspects that are presented in the series. When technical glitches happened, he gave us more time for filming, voice recording and editing, even during the cold weather, and despite personal aches and pains. He directed his words and explanations for our Religious Education children, but his work is appropriate for all parishioners. Fr. Doherty walked in, around and outside the church and explained the various aspect of our beautiful parish. The Religious Education program is extremely grateful to Fr. Greg Doherty for bringing our parish to life in this special video series. He brought so much knowledge and experience to the production and made it a wonderful gift to our children. While the video series was designed as an education tool for the children, it can be enjoyed by everyone. Thank you, Fr. Greg !!
3/28/2021:  The Religious Education Department wishes all the members of our Parish a very Happy Palm Sunday. We hope that all of you will participate in the beautiful liturgies of this week that commemorate the events surrounding the suffering, Death and Resurrection of Jesus. The liturgies of Holy week are filled with some of the richest and most ancient symbols of the Catholic faith. The waving of palms today reminds us that we are called to be followers of Jesus, not just distant fans.  The Washing of the Feet on Holy Thursday speaks to us of the selfless love that we are called to practice in imitation of Jesus.  The Veneration of the cross on Good Friday reminds us that, as Christians, we believe that Jesus can overcome anything, even death. The lighting of the Easter fire, and the procession of the paschal candle into a darkened church from which our individual candles are lit, speaks to us of the new life that is ours because of Jesus' triumph over the darkness of sin and death through His resurrection. Our students will not have classes during Holy week, it is our sincere hope that they and their families will participate in these special days.
3/14/2021:
The Holy Innocents Eighth Grade Religious Education students have performed various service projects in their preparation for Confirmation. Christian service is one of the tenets of our faith and follows the example of Jesus who came to serve.  Mrs. Joey Keating's class decided to host a food drive to help those in need. They arranged for this contactless project utilizing Amazon to collect donations. The food collected will be shipped directly to the Food Pantry in Harlem run by the Franciscan Sisters of the Renewal. If you would like to contribute, please click here to be directed to the Amazon list.  Your generosity is appreciated, and the class thanks you in advance for helping them help those in need.
3/7/2021:  This week beginning Monday, March 8th, the sacrament of Confession is being made available to all our students in the Religious Education program. We are incredibly grateful to our pastor, Fr. Luke Hoyt, O.P., and to all of our priests for taking the time to be available for the students.  Our Second graders have already led the way last week by receiving their First Reconciliation. They were well prepared and completed this first step toward receiving First Holy Communion in May.  This is an especially perfect time for our Eighth graders to have this opportunity since they will be receiving Confirmation, in a few weeks on March 20th.  In Confession we can repent and recover the grace of friendship with God. Receiving absolution from any sins we may have committed is like a "spring cleaning" for our souls!  We hope that many of our students will avail themselves of this sacrament this week. It helps us stay close to God and the church, a friendship that will sustain us through a pandemic and through life.
2/28/2021:  This week in Mrs. Graj's Sixth grade class, they marked Lent with Butterflies. This activity is one of Mrs. Graj's yearly classroom events with her class. She beautifully modified it for our Coronavirus days, through her ZOOM session. This year, she placed the larva in individual cups labeled for each of her students. Each student then named their larva, and Mrs. Graj wrote the name on the cup so each week they can monitor and watch their "buddy" grow and transform.  The activity is designed to be an exciting way for the children to mark their Lenten journey. As the weeks of Lent progress, the students will watch the larva/caterpillars grow into butterflies! Just as we are growing closer to our Lord and being transformed into something new and beautiful through our Lenten Journey.  Thank you to Mrs. Graj for continuing this activity for our children! Thank you to all of the students in Mrs. Graj's class for participating in this beautiful activity. We look forward to the pictures of your "buddies" when their transformation is complete!
2/21/2021:  On Monday, February 22nd and Tuesday, February 23rd our Second Grade students will be receiving the sacrament of Reconciliation for the first time. These students are learning about their faith under the direction of their catechists – Mrs. Josephine Cardone and Mrs. Kathleen Trudo, Mrs. Alice Fortino and Mrs. Kasey King. This is their first sacrament since baptism and one of the important parts of this year's preparation for their First Holy Communion in May. Their instruction has emphasized and encouraged partaking in this sacrament as part of living our Catholic faith. We are very grateful to Fr. Luke, Fr. Leo and Fr. Greg for making the necessary accommodations for receiving this sacrament under the current Covid-19 restrictions. Please especially keep these children, their parents and their catechists in your prayers this week.
2/14/2021: Happy Valentine's Day from the Religious Education program!! Our eighth graders continue to make us proud with their various service projects during these days of social distancing, isolation and contactless deliveries and opportunities.
Mrs. Pomilla's class has decided to lead the rosary for several weeks before Sunday mass, and has also arranged to bake and deliver sweets and treats for the workers and patients at Rosary Hill. They are bringing some brightness and cheer to all of those who are so alone to celebrate St. Valentine's Day.
Mrs. Keating's class is sending Valentine greetings to our retired religious, who have been wonderful models of Christian service during their lives.
During this holiday, a holiday focused on love, and those in our lives that we love, these catechists designed projects to show love for others. We are very grateful to all of them!
1/31/2021: The Holy Innocents Eighth Grade Religious Education students are currently preparing for the Sacrament of Confirmation. A part of their preparation for the sacrament is learning about and performing service. Service is based on the spiritual and corporal works of mercy and, most of all, on the examples of Christ who came to serve. They will be looking for opportunities to serve their families, in their community and for our church.
Mrs. Danielle Raefski's class has reached out to the Mercy Center. The Mercy Center offers programs that empower women and their families to reach their full potential and become agents of change for healthy family living and economic independence. Each 8th Grader will be making Easter baskets for the current 70 children at Mercy Center. The project includes decorating bags and making cards for the children that range in age from First to Seventh grade. Each bag will be filled with candy and presents.
The class has decided to use Amazon to collect items to include in the baskets. If you would like to donate, select from the Amazon Wish list and the items will be shipped directly to the class. Mrs. Raefski's class will then assemble and deliver the baskets.
Your generosity is appreciated and the class thanks you in advance for helping them make a special and memorable Easter for the children at the Mercy Center. Please do not bring any donations to church. It is through Amazon only. If you have any questions please contact Cathy Sabol.
1/17/2021: The Religious Education program has begun our second semester using our on-line textbook, Finding God by Loyola Press. We are looking forward to more interesting activities and program wide projects!
The second and eighth grades are preparing for their sacraments. The sacrament of First Reconciliation is being planned for February, Confirmation will be in March, and First Holy Communion will be in May. The catechists in these grades are busy preparing their students for these special occasions.
We once again wish to thank the parents and the catechists for their partnership to teach the faith to the children of our parish. The first semester was a success due to their dedication, and we know this next semester will be completed in the same way.
Please continue to keep these dedicated teachers and the children in your prayers.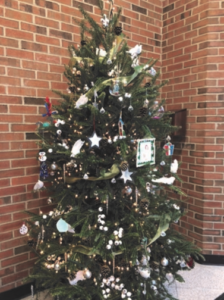 1/10/2021  The Religious Education program wishes to thank Mrs. Wanda DeJesus and the decorating committee for inviting our children to participate in decorating the Christmas tree in the Narthex. We were invited to add an ornament to the tree that was of importance to us. It could be something that represented our nationality, our favorite sports team or something significant about our family and our Christmas traditions. The bigger picture was that we take our uniqueness and add and blend it to the Holy Innocents family, making that family richer. Thank you to all of our Religious Education families who contributed and thank you to the Decorating committee for the beautiful job they did preparing our church for the celebration of the Christmas season, and allowing us to be a part of it!
12/27/2020  On Sunday, December 13th, the eighth graders in Mrs. Moran's class worked together to complete two portions of their Confirmation service projects. The class attended the 11:00 AM Mass and then stayed afterwards to clean the church. This important act is part of the COVID-19 protocol and is keeping all of us at Holy Innocents safe as we attend our liturgies. They then moved into the Social Hall and sorted, wrapped, and labeled the gifts they had collected for the Open Door Medical Center in Mount Kisco. The students collected 400 gifts and overwhelmed the people at Open Door who were afraid they might not have enough gifts for everyone!
Thank you to The Black Cow, Key Food, Lucio's Pizza, Pleasantville Pharmacy, and the Village Bookstore for allowing the students to have space for a collection box.
We are very proud of these students for thinking of others besides themselves, for working hard to design and then implement this project and for bringing joy to so many people at Christmastime. Thank you to Mrs. Moran and the parents who worked to help make this project a success! Thanks to all the students for their service!
12/20/2020 The Holy Innocents Religious Education program continues our Advent wreath project and this Fourth Sunday of Advent, the children reflected on the theme of Peace. The candle is known as the Angel's candle, and reminds us of the message of the angels – "Peace on Earth, Good Will Toward Men" !
Our Eighth Grade Religious Education students continue their preparation for the Sacrament of Confirmation. Mrs. Keating's, Mrs. Foley's, and Mrs. Raefski's classes are all spreading Christmas joy by writing personalized Christmas cards to the Religious Sisters at Marian Woods, and the Dominican Friars who are retired or in elder care facilities. We thank them for being angels to those who embody the Catholic tradition and have been models of our faith and Christian service!
The Religious Education program of Holy Innocents wishes you all a very Merry Christmas. We continue to pray for our wonderful parish, Fr. Luke, Fr. Leo, Fr. Frank and Fr. Greg, and ask that you pray for all of our beautiful children that are the future of our parish and our Catholic faith!  Merry Christmas!! Sending you our love and wishing you His Peace!
12/15/2020  The Holy Innocents Eighth Grade Religious Education students are currently preparing for the Sacrament of Confirmation.  A part of their preparation for the sacrament is learning about and performing service.  Mrs. Moran's students chose to organize and distribute holiday gifts for the Open Door Medical Center in Mount Kisco.  They asked Pleasantville retailers for permission to place boxes for unopened, unwrapped gifts in their stores.  The students then visited those locations every few days to collect the donations.
We are grateful to The Black Cow, Key Food, Lucio's Pizza, Pleasantville Pharmacy, and the Village Bookstore for allowing the students to have space for a collection box. On Sunday, December 13, the class attended the 11:00 AM mass and stayed afterwards to clean the church.  They then worked in the Social Hall to sort, wrap and label the gifts they had collected.  They delivered over 400 gifts to a very grateful Open Door! We are so very proud of them and their efforts to bring a Merry Christmas to those in need!
Thank you to Mrs. Moran and the four parents who worked to help make this project a success!
12/13/2020 The Holy Innocents Eight Grade Religious Education students are currently preparing for the Sacrament of Confirmation. A part of their preparation for the sacrament is learning about and performing service. Service is based on the spiritual and corporal works of mercy and, most of all, on the examples of Christ who came to serve. They will be looking for opportunities to serve their families, in their community and for our church.
Mrs. Kaley's Eighth Graders have decided to spread Christmas joy and spirit to the patients at Rosary Hill Home and the Dominican Sisters who so selflessly care for them. Due to Covid-19 restrictions, the patient's families are not able to visit them, and the Sisters are not permitted to leave the facility.
The Eighth graders will be creating Christmas gift bags for both the patients and Sisters, as well as cards with messages of their prayers and God's love. The students will then host a Christmas Party Zoom with the patients and Sisters at Rosary Hill where they will sing carols, as well as recite Christmas stories and poems.
This virtual visit will allow those at Rosary Hill the chance to see the beautiful faces of the children who have so lovingly tried to help them, and the children will see the joy that they have brought!
11/29/2020 Our Religious Education students are building their own Advent Wreath located in the Front entrance of church. Each week the children are writing answers to a theme question, and their answers will create the candles of the wreath.
Week 1- What does it mean to have hope, or what do they hope for?
Week 2 – How do we show God's love, or How do we feel God's love in our lives?
Week 3 – What brings them joy? What have they done that brought joy to someone?
Week 4 – What makes them feel peaceful?  What have they done to foster peace?
They are so amazing and intuitive!!  They are hoping, like so many of us, for an end to Corona, they hope things will go back to normal, they hope to be back at school and see their friends, and they are hoping to be together with their extended families for Christmas.  They show love by doing good deeds, sharing a smile and going to church! We invite you to stop by and read their responses as you enter church.
11/22/2020 In our Finding God curriculum, every Grade level's unit starts with the same theme. For example, Unit 1 was titled God our Creator and Father. The sessions (chapters) within that Unit develop the ideas in age appropriate ways and provide thought provoking questions and activities to do and ideas to discuss as a family.
Within Unit 1 there was an opportunity to look at ways that Jesus is a part of our life and how we are part of one family. The various activities and ideas centered around seeing Jesus in all that they do, and to pray to Him.
Our Eighth Graders were asked to draw a picture of a path, and the challenges they faced, asking who was there to help. The Seventh Grade learned about Jesus' genealogy and how we all belong. For the Sixth Grade, they were asked to consider God's trust and how they can build that trust in their family and community.
The Fifth Grade's activity was to draw a picture of God's love and care for them and their families. In the Fourth Grade, they learned about free will, and how Jesus can help them mend relationships in their family. The Third Grade also discussed trust in God, and they were asked to draw a picture of resting in God's hands.
The Second graders learned about praising God, and to draw a picture of how they and their family used prayer to praise, and the First grade was asked to draw a picture of themselves with Jesus.
In Mrs. Finck's First Grade class, they talked about praying and how Jesus gave all of us a special prayer, and that we can consider Him part of our family. The following drawing by Owen Santiamo was submitted and we are proud to share with all of you!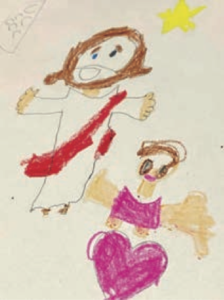 Thank you, Owen!!
We praise God and thank Him for the many blessing He has bestowed on us. Happy Thanksgiving to all of the parishioners of Holy Innocents from Religious Education!
11/8/2020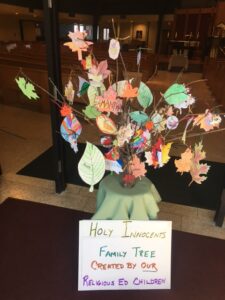 Dear Religious Education Families!
Thanks to all of you who contributed to our beautiful Holy Innocents Family Tree!
Each leaf is as lovely, unique, and special as the children who created them!!
You can see it in person in the Parish vestibule!
"He will be like a tree firmly planted by streams of water,
Which yields its fruit in its season
And its leaf does not wither;
And in whatever he does, he prospers. "  Psalm 1:3
Thank you All!
11/15/2020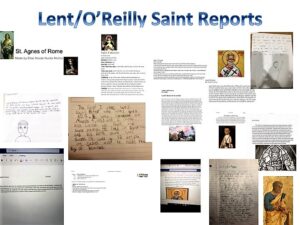 In the eighth century, Pope Gregory III designated November 1st as a time to honor all saints and martyrs, and we continue to celebrate All Saints Day as a holy day of obligation in most years.  The primary reason for establishing a common feast day was quite simply, there were not enough days of the year for a feast day for each martyr and many of them died in groups. This feast was followed by a day in honor of soon-to-be saints, or All Souls, celebrated on November. 2nd.
In Mrs. Lent's and Mrs. O'Reilly's Seventh Grade class, the students took the opportunity of this celebration to research saints they were interested in.   This beautiful collage showcases some of their choices including St. Agnes of Rome, St. Anthony, St. Catherine, St. Peter, St. Nicholas, St. Francis of Assisi, St. Martin de Porres, and St. George.
All you holy men and women, pray for us!